"Omawari-san, ohayo gozaimasu! " (Good morning, Mr. Policeman!) In Japan, children on their way to school can be seen cheerfully greeting police officers. These interactions take place at Koban, the Japanese police box. For the Japanese police, good ties with neighborhood residents and cooperation with the community are key elements of crime prevention. In that connection, the Koban system plays an important role.

Koban, which can be found in neighborhoods around the country, are effective as contact points between police and local residents. Here everyone can find a friendly officer on duty. Police officials who visit Japan from other countries are impressed with the role of Koban in supporting the high level of public safety. They note that everyday policing in Japan is built on a foundation of public trust through Koban.
Police officers at Koban respond to questions and requests from residents who visit them. When an incident occurs, officers from the nearest Koban rush to the scene and deal with the situation resolutely. They also work to prevent crimes by conducting patrols focusing on high-crime districts, sharing relevant information and offering pointers on crime prevention by distributing fliers and making routine visits to homes and workplaces. In addition, police officers support the crime-prevention efforts of local volunteer groups. Cooperation through these local initiatives helps keep neighborhoods safe.

During their training in Japan, police officials from abroad participate actively in site visits.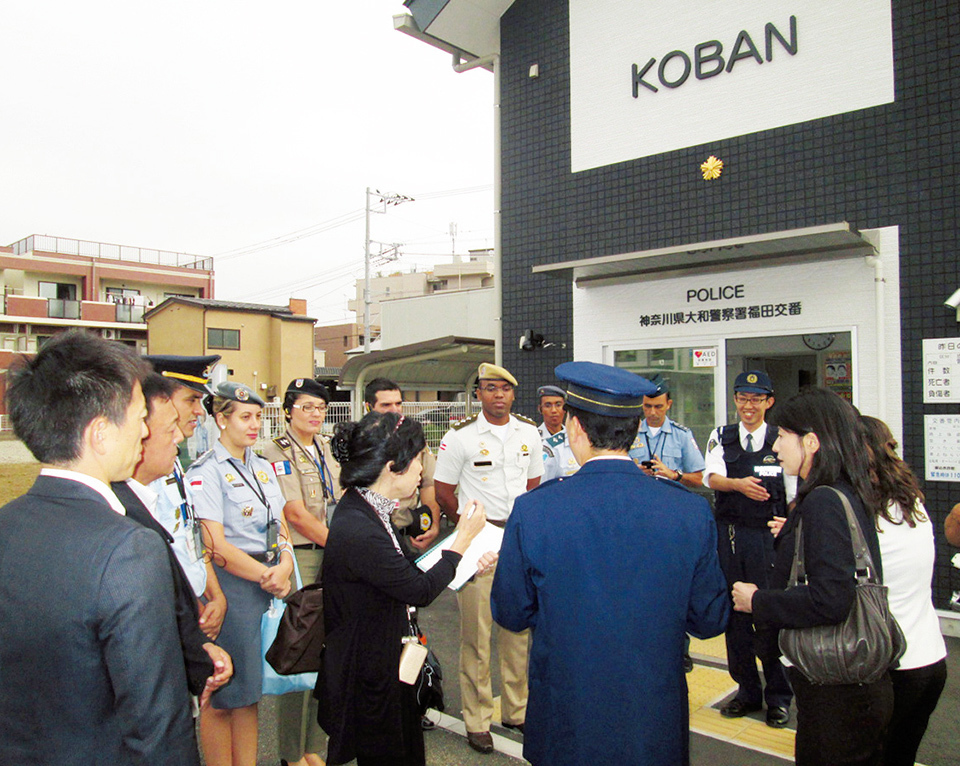 Visiting Koban.
Observing a police officer's routine visit to a resident's home.
 In cooperation with the Japan International Cooperation Agency (JICA), the Japanese police are providing training for police officials from developing countries regarding the Koban system, the functions and features of policing based on trust and cooperation with local residents. The training programs include site visits in which participants visit Koban, meet police officers stationed there, and accompany them on their rounds, such as routine visits to residents' homes, where officers provide information on crime prevention and listen to residents' concerns. They see the importance of activities aimed at preventing crimes and observe how officers build residents' trust in the police. The programs also include classroom sessions, where participants are encouraged to consider and elaborate their experience of studying the Japanese Koban system and to modify and develop the system to fit their own countries' customs and culture.

 Participants have offered various comments about the training: "I was impressed to see how police officers build and maintain good relations with residents." "I really felt that the trust of residents serves as a premise for obtaining their cooperation, which promotes smooth policing and thereby supports the high level of public safety." "I want to actively introduce the feasible elements of the Japanese policing system in my own country."

 Participants from Indonesia, assigned to the "Police-Citizen Partnership Center" (known by its Indonesian acronym BKPM) in Bekasi, have been striving since their return to their homeland to become part of the local community and build ties with residents. They have been responding promptly and considerately to residents' consultations, and they have also conducted educational activities for local children.

 The Japanese police hope to work together with police officials of other countries toward the common objectives of enhancing policing systems and improving public safety. Japan will continue to offer international support, making good use of its experience and knowledge of policing based on strong community ties.
Participants from Indonesia have applied what they learned in Japan, modifying it in line with conditions in their country.