Expo will showcase solutions to humanity's universal challenges
 On April 24, 2017, Japan presented to the Bureau International des Expositions (BIE) to officially announce its bid as a candidate to host the 2025 World Expo. The proposed location is Osaka and Kansai, with the theme of "Designing Future Society for Our Lives."

 Among developed countries, Japan has one of the fastest decreasing birth rates and most rapidly aging populations. The social problems related to medical treatment, healthcare, and other topics that directly face Japan today also will concern other nations. Japan is now focused on solving these problems through the implementation and application of technological prowess and social infrastructure. This makes hosting the World Expo 2025 Osaka, Kansai the ideal occasion to share our vision of a future society with our fellow people from all over the world.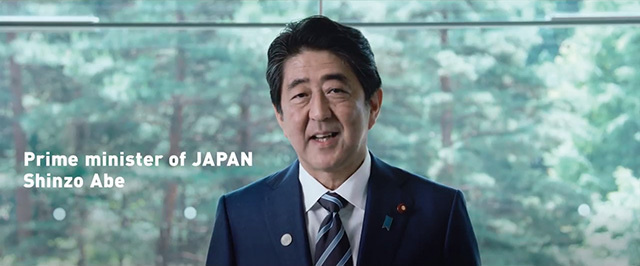 Currently, in preparation for the BIE vote scheduled for November of next year, Japan is carrying out an ongoing nationwide promotional effort. A comprehensive presentation was given to the BIE on June 14, 2017, including a video message from Japanese Prime Minister Shinzo Abe, along with footage of Japan's technology in action and other imagery to demonstrate the appeal of the proposed theme and of the Osaka, Kansai region.
 Sadayuki Sakakibara, Chairman of the 2025 Japan World Expo Committee and the Japan Business Federation, expresses his resolve in the following statement: "At present, the government and private sector in Japan are jointly promoting a national project called 'Society 5.0.'"

 "Society 5.0 is designed to realize a future where people's lives and society are optimized by fully implementing innovative technologies such as IoT, AI, robots, and Big Data. The future society we aim to realize is a society in which global problems including medical treatment and healthcare, food and agriculture, environment and climate change, energy and resources, safety and disaster prevention, and human and gender equality, are solved. Such a society would be exactly the embodiment of a society in which the United Nations' Sustainable Development Goals (SDGs) have been achieved. We believe that the World Expo 2025 Osaka, Kansai is the perfect occasion to share this vision of a future society with our fellow people from all over the world."