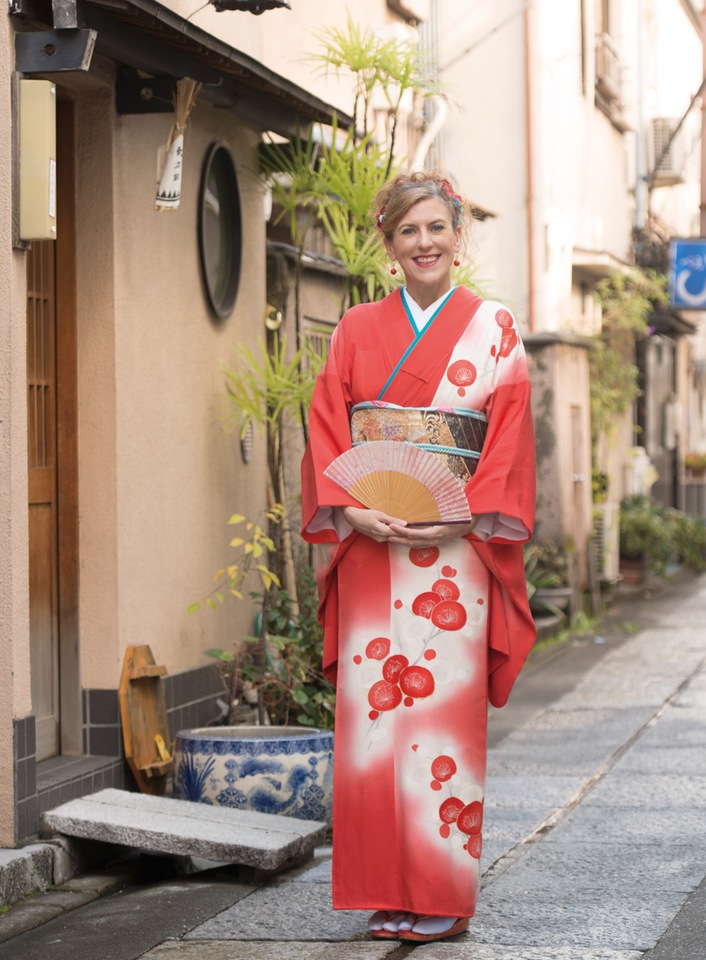 Diane Kichijitsu
Stage performer of rakugo. Born in Liverpool, England.
Arrived in Japan in 1990 and first performed rakugo by herself in 1998.
 In 1990, Diane was traveling around the world. A friend recommended that she visit Japan. "Japan is safe," her friend said. Following this advice, Diane traveled to Osaka. "I didn't speak any Japanese, but that was not a problem," Diane said. "Japanese people are super-friendly."

 Diane traveled around the country for three months. From Osaka, she visited Kyoto, Nara, Tokyo, and Hokkaido. But it was in Osaka that she fell in love with Japan and Japanese culture. Indeed, Diane has trained in pottery, ikebana, kitsuke, the art of wearing a kimono, and sado, the Japanese tea ceremony. However, it was as a rakugo performer that she achieved fame.

 Rakugo is the traditional Japanese art of comic storytelling. While living in Osaka, Diane was introduced to Katsura Shijaku, a famous rakugo performer and asked to be his ochako—a stage assistant—for his English-language rakugo performance. This was Diane's first encounter with the art.

 When she saw Shijaku's performance, she fell in love with rakugo. "It was very organic and fresh," she said. "It was one person sitting on a cushion. With a fan and a folded cloth, he took the listeners on a journey." Diane also found that rakugo matched her humorous personality and strengthened her. "Since childhood, I have enjoyed making people laugh," Diane said. "But when I was a child, I did not have a lot of confidence." Through rakugo, she discovered selfconfidence. She also found her goal in life—to make people smile.

 Diane's first English-language performance, a story called "Wonderful Japan," soon followed. She performed it in front of 300 people. Now an expert rakugoka, or rakugo performer, Diane performs in both English and Japanese. She has also adopted a stage name, "Diane Kichijitsu"—which is a play-on-words meaning "Lucky Diane."

 Diane has traveled to more than forty-five countries, sharing her love of Japanese culture wherever possible. She has performed rakugo in the United States, India, the United Arab Emirates, Norway, Finland, Estonia, and England, her homeland. She has also performed across Japan.

 Diane's rakugo performances have touched the lives of many people around the world. One of her fondest memories was performing in English in Oslo, Norway. "The kids really enjoyed it," she said. "One child said, 'I want to go to Japan,' after watching a performance." Diane was happy to make the child smile, and to inspire them to think about Japan.

 Diane also remembers her experience as a volunteer in evacuation centers after the Great East Japan Earthquake of 2011. "I went up to Tohoku and wore a bright kimono," she said. "I did rakugo performances and other times I wore a crazy balloon hat. People would sit and talk to me, give me small gifts and I would listen to their stories." One boy took a video of Diane's performance. "When I'm sad, I'll look at this and remember happier times," he told her. Diane was moved by his sensitivity and maturity.

 Diane's experience in Tohoku and around the world made her realize the potential power of rakugo to make people smile. "Humor is really important at most times and places," she said. Since coming to Japan over 24 years ago, Diane Kichijitsu has touched the lives of people everywhere she has traveled, and will continue making the world smile for years to come.