On June 15, 2014, Ms. Keiko Ihara became the first Asian woman to complete the 24 Hours of Le Mans. Her team finished fourteenth in the 82nd round of the most prestigious auto endurance race in the world. Ms. Ihara, the top-ranked woman in the 2013 Fédération Internationale de l'Automobile (FIA) World Endurance Championship, already had major achievements. But even to her, finishing the Le Mans was a thrill unlike any other.

 "It's the most grueling race in the world," she said. "For racers and mechanics, it's like the ultimate test of their human capacity. "

 Her first encounter with motor sports came when she was a university student. At that time, she had difficulty finding a clear direction in her life. She had a part-time job in the circuits and this gave her a taste of the thrill of motor racing. "All of the people involved, not only racers but also engineers and pit crew, were totally focused on their tasks. Watching them at work, I decided to be a part of auto racing."

 But entering the world of motor racing turned out to be more difficult than Ms. Ihara had imagined. "It wasn't just that I was at a physical disadvantage. At that time, in Japanese motor sports there was still a lot of prejudice against the entry of women drivers. When I went to Europe to enter the racing world, I discovered that it was based on merit. But I came up against language and cultural barriers. I was very discouraged at first, but I decided that I should overcome all these difficulties and become number one."

 Interestingly, Ms. Ihara says her solution was "to stop trying to be a perfectionist." Instead, she focused on what she was capable of doing. In Britain, she learned that she could overcome seemingly insurmountable obstacles by taking things step-by-step. When she came up against racial discrimination, she overcame that as well through friendly persistence. Personal experience taught her that, given enough time, people can always reach an understanding through dialogue.

 At Le Mans this year, Ms. Ihara's persistence paid off as she drove for a full eight hours, working hand in glove with her French and American teammates to complete the famous 24-hour marathon. And for her next challenge, Ms. Ihara is aiming for a World Endurance Championship title.

 As someone who has pursued her dreams vigorously, what does Ms. Ihara think of Japanese women? "When I take part in educational programs on university campuses, I feel that these days women are more enthusiastic and open to the outside world than men. But they aren't sure how to apply their interests and abilities. Given the opportunity, I think a lot of Japanese women would start playing a more prominent role in society. They're very well educated, and they have patience and ability. The potential is definitely there."

 "I've accomplished as much as I have by putting myself in situations that demanded passion and ambition. I think today's young women need to place themselves in those situations and build up experience in order to reach their full potential." As Ms. Ihara sees it, one of her key missions going forward will be helping other Japanese women fulfill their dreams by inspiring them to place themselves in the same demanding situations that fostered her in the past.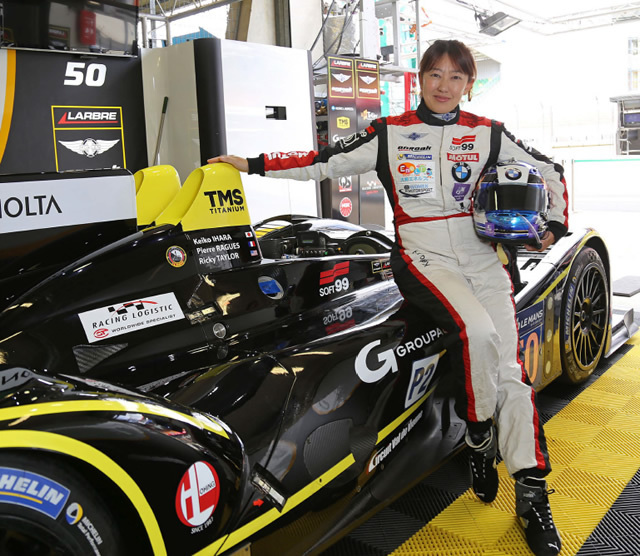 Keiko Ihara
Ms. Keiko Ihara made her auto-racing debut at the age of 25 in the Ferrari Challenge and became the first woman to post a pole-to-flag victory in an FIA-licensed international event. She has raced in 70 countries, competing in Formula Three, Le Mans, the World Endurance Championship, and other series. When not on the track, Ms. Ihara teaches university classes in media innovation; she also teaches English to local children.