Japan-Turkey Summit Meeting
On October 8, commencing at 6:15 p.m. for approximately one hour and 45 minutes, Mr. Shinzo Abe, Prime Minister of Japan, held a summit meeting at the Prime Minister's Office with with H.E. Mr. Recep Tayyip Erdogan, President of the Republic of Turkey, who is making a working visit to Japan. The overview is as follows.

1. Bilateral relations

(1) General

Prime Minister Abe stated that he was overjoyed to be able to welcome President Erdogan to Japan in the year commemorating the 125th anniversary of the Ertuğrul Frigate Disaster that led to the long-standing friendly relationship between Japan and Turkey. Prime Minister Abe mentioned that this was his fourth summit meeting with President Erdogan, and expressed the view that the friendship between him and President Erdogan is very deep and transcends that of the two national leaders, and that there are too many memories to mention. Prime Minister Abe stated that Japan and Turkey are currently both rejoicing after being awarded the Nobel Prizes, and he is extremely happy that the relationship of cooperation between the two countries has been developing steadily up to now, and he intends to use this visit to Japan by President Erdogan as an opportunity to further expand the "strategic partnership" between the two countries in all fields, including politics, the economy and culture. President Erdogan stated that Japan is Turkey's most important partner and he is looking forward to welcoming Prime Minister Abe when Turkey hosts the G20 Summit in November.

(2) Politics and security

Prime Minister Abe stated that he hopes to strengthen high-level dialogue, including between foreign ministers and vice-ministers, and dialogue between the two countries' national security agencies, and explained that the "Legislation for Peace and Security " will enable Japan to make a greater contribution to the peace and stability of the international community. President Erdogan explained that he attaches importance to exchanges between the two countries' leaders, Cabinet ministers and parliaments, and to security cooperation.

(3) Economy

The two leaders confirmed progress with the Japan-Turkey Economic Partnership Agreement (EPA), which they agreed to launch the negotiations at a summit meeting last year, and with negotiations on the Social Security Agreement. They also expressed their expectation over Japanese companies' contributions to infrastructure projects in Turkey, and welcomed that a document on cooperating in the field of information and communications technology was signed between the two countries' government authorities during President Erdogan's visit.

(4) Culture

The two leaders confirmed the promotion of further cooperation toward the success of the joint Japanese-Turkish film production "Kainan 1890". They also confirmed that discussions on establishing a Japanese-Turkish science and technology university are progressing.

2. Cooperation in the international arena

In light of Turkey's role as the chair country for the G20 Antalya Summit, Prime Minister Abe highly appreciated President Erdogan's leadership, and conveyed the importance of delivering a powerful message on realizing sustainable economic growth. Additionally, Prime Minister Abe explained that he hopes to work closely with President Erdogan on reforms of the United Nations Security Council and the success of the World Humanitarian Summit. President Erdogan noted the importance of promoting infrastructure development and investment on a global scale, supporting growth in developing countries, and following up on how growth strategies are progressing.

3. Regional affairs

Prime Minister Abe expressed his respect for Turkey's response in accepting the largest number of Syrian refugees in the world, and voiced his hope that Turkey's burden will be mitigated by the 370-million USD yen loan that Japan has decided to provide. The two leaders confirmed cooperation on regional peace and stability, including counterterrorism and the situation in Syria.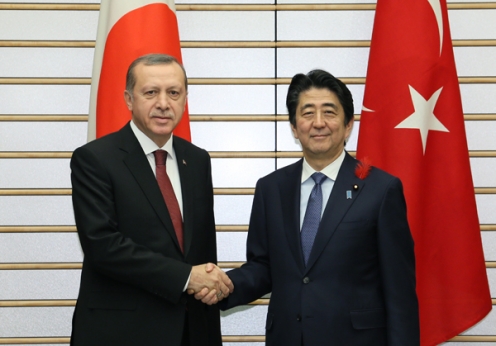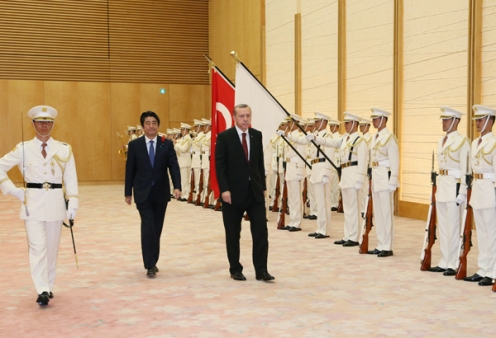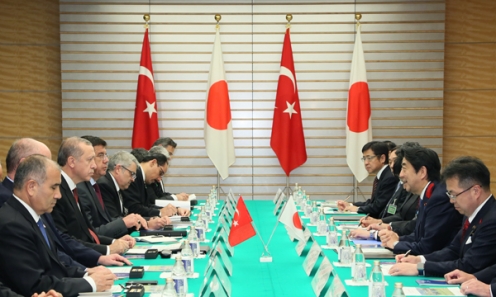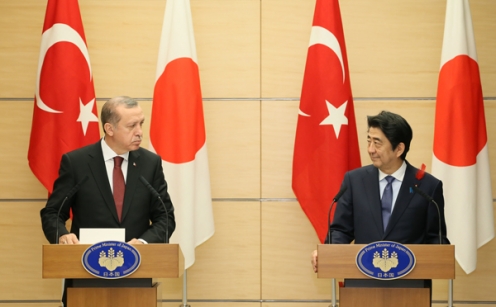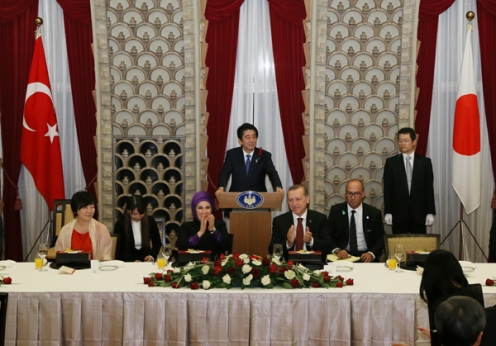 Emergency Grant Aid to support the Presidential Election in the Republic of Guinea
1. On October 9, the Government of Japan decided to extend Emergency Grant Aid of approximately 500,000 US dollars (60 million yen) through the United Nations Development Programme (UNDP), to provide equipment such as ballot boxes, with a view to supporting smooth implementation of the presidential election scheduled to be held this month in the Republic of Guinea.

2. The Republic of Guinea has made steady progress in the process of democratization since the incumbent President Condé was democratically elected in 2010 and the subsequent National Assembly election in 2013 was also successfully held. However, Guinea now faces severe social and economic challenges due to the Ebola virus disease outbreak since March 2014.

3. Through this grand aid, the Government of Japan hopes that the forthcoming presidential election will be implemented in a fair and smooth manner, which can give a boost to the improvement of security of entire West African region as well as the prompt recovery from the Ebola outbreak. This assistance will contribute to "Consolidating Peace, Stability, Democracy and Good Governance" (PDF: http://www.mofa.go.jp/files/000006375.pdf), which has been promoted through the TICAD (Tokyo International Conference on African Development) process, one of the pillars of Japan's diplomacy towards Africa.