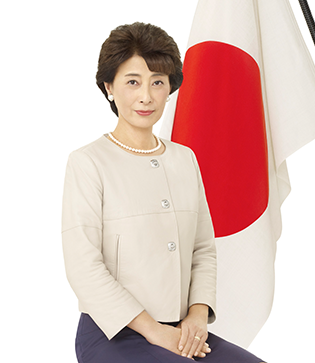 Keiko Takegawa
Director General, Public Relations Office
Cabinet Office
Government of Japan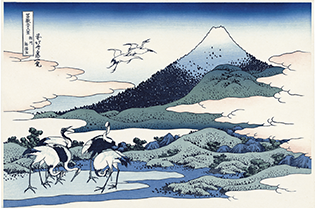 Umezawa Manor, Sagami Province (Soshu Umezawa-no-sho)
Around 1830~1832
From the series Thirty-Six Views of Fujisan (Fugaku Sanjurokkei)
Ukiyo-e woodblock print
Katsushika Hokusai (1760~1849)
Print courtesy of the Adachi Foundation for the Preservation of Woodcut Printing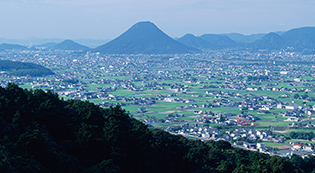 Sanuki Fuji
Mountain of 421.87m in Shikoku region of Japan ,Kagawa Prefecture
Thank you for your continuing goodwill toward Japan as valued tomodachi. My compatriots and I are especially grateful to those of you who supported the recent registration of Fujisan as a UNESCO World Heritage site.


Fujisan, Japan's tallest peak, presents ever-changing beauty through the four seasons. But what UNESCO cited in registering the mountain as a World Heritage site is cultural importance: Fujisan's combination of tangible and intangible value as a "sacred place and source of artistic inspiration".


I am eager for you and people everywhere to know more about the multifaceted wonders that are the nation and the culture of Japan. Those wonders include delectable cuisine, such as sushi, and natural beauty, such as the annual efflorescence of cherry blossoms, not to mention Japan's marvels of technological innovation. But our nation is far more than these familiar attractions.


The Japanese archipelago stretches across an arc of some 3,000 kilometers. It is rich in cultural diversity and interesting traditional practices. One striking practice reflects the Japanese reverence for Fujisan. People have named and long cherished "mini-Fujis" across the nation. For example, a hill known as Sanuki Fuji stands near my hometown in the Sanuki region on the island of Shikoku. I would be delighted for you to have the chance one day to see this endearing knoll.


Please allow me to stay in touch with you through occasional tomodachi greetings. These greetings will be an opportunity for me to invite your attention to Japanese topics of possible interest: sightseeing opportunities, culinary discoveries, advances in medical care, and messages from our prime minister, Shinzo Abe.


I hope through these greetings to provide you with a broader understanding of our nation. I hope, too, that you will share your understanding of Japan in your own words with your friends and acquaintances. And I hope that you will share friendly feedback with me about your impressions of our nation. Let these greetings be a channel for reinforcing our mutually invaluable ties.
Your tomodachi,