A Japanese woman goes into business in Uganda, managing a Japanese restaurant and supporting organic agriculture. Her goal is to generate new value through business and contribute to African development. Her source of energy? The positive attitude of Africans who see hope for the future.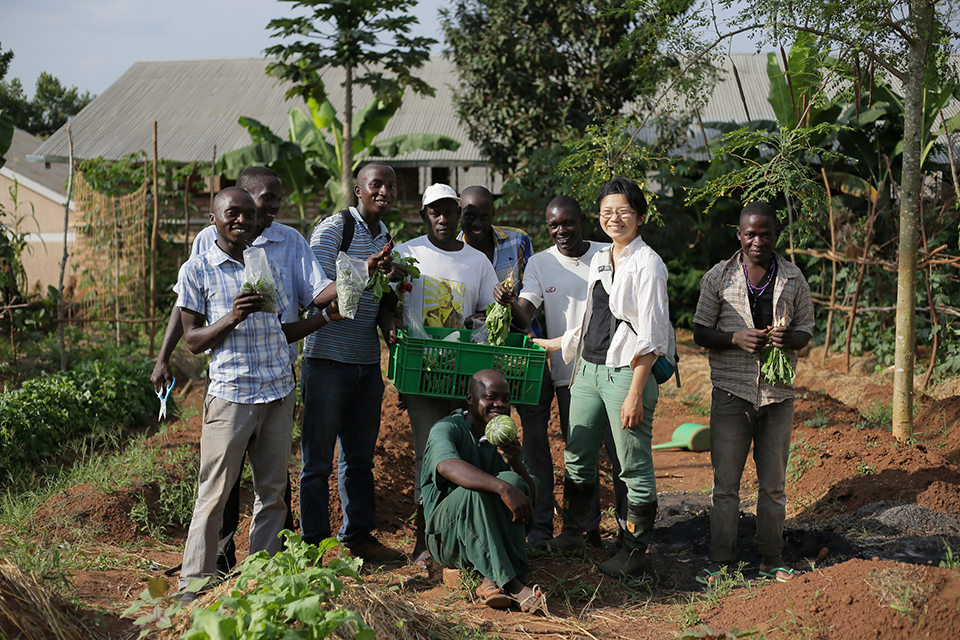 Cots Cots Ltd. is committed to organic farming, using its products at Yamasen and exporting chili peppers and shea butter to Japan. ATSUSHI SHIBUYA
 "I was captivated by Africa," says MIYASHITA Fumiko. She is talking to us in a pleasant, open space within a Ugandan café that is part of a Japanese restaurant called Yamasen, managed by Miyashita herself. In addition to managing the restaurant, she is also a co-director of Cots Cots Ltd., a company that deals with agricultural products and operates a commercial facility in Kampala, the capital of Uganda.
 Miyashita's fascination with Africa began in her college years. As a cultural anthropology major, she was intensely drawn to African culture, which was so different from her own. She had hoped to become a scholar to probe the depths of the land that had captivated her. In 2011, however, just as she was about to begin her graduate studies, the Great East Japan Earthquake occurred on March 11, changing her outlook. Driven by a need to connect with society, she joined a venture company that supports sustainable farming. She worked for the company while continuing her studies, and started traveling to and from Uganda as part of the firm's efforts to expand its business to developing countries. In 2014, she relocated to that country as the company's overseas representative.
 She met several fellow Japanese people living in Kampala, and they discussed the possibility of launching a Japanese-style restaurant there. Around that time, her partner—who managed a restaurant as a chef in Kyoto—decided that he, too, would relocate to Uganda. In 2017, Miyashita teamed up with others and co-founded Cots Cots Ltd.
 The name of the company—Cots Cots—stems from the Japanese term
kotsu-kotsu,
which means "to work diligently, step by step." Miyashita took over the business of the company she formerly worked for—namely supporting organic farmers and distributing and exporting their products—and is making steady efforts to develop it in a way that will engender more value. The expression
kotsu-kotsu
doesn't necessarily mean that she doesn't take risks though. She thought that scale would be an important factor if she hoped to popularize Japanese cuisine and enable the company to succeed as a business. The company procured the necessary funds and, in 2018, established a commercial facility named Tank Hill Park. A focus on good design resulted in an eye-catching piece of architecture that truly stands out. In the center of the facility is Yamasen, a restaurant specializing in Japanese cuisine. Forty of its staff are local employees.
Tank Hill Park made use of local timber to create an open space. In 2020, the building was awarded the Good Design Gold Award (Minister of Economy, Trade and Industry Award) by the Japan Institute of Design Promotion as an outstanding example of Japanese design. TIMOTHY LATIM

 Running the business has not been easy. When Uganda closed its borders in March 2020 to prevent the spread of COVID-19, 80% of foreign residents—core restaurant clients—left the country. An unexpected but happy development, however, was that local residents began to visit the facility more regularly than previously, possibly because they were no longer shy about frequenting a place that mainly catered to foreigners. The restaurant has been revising its price list and menu to fit better the needs and tastes of locals, who are more conservative about what they eat. "One popular item is cassava, simmered in dashi (broth) and then fried, similar to the way Japanese potatoes are prepared in Kyoto. Foreigners are also coming back, and the restaurant is now a place for all kinds of people to come together."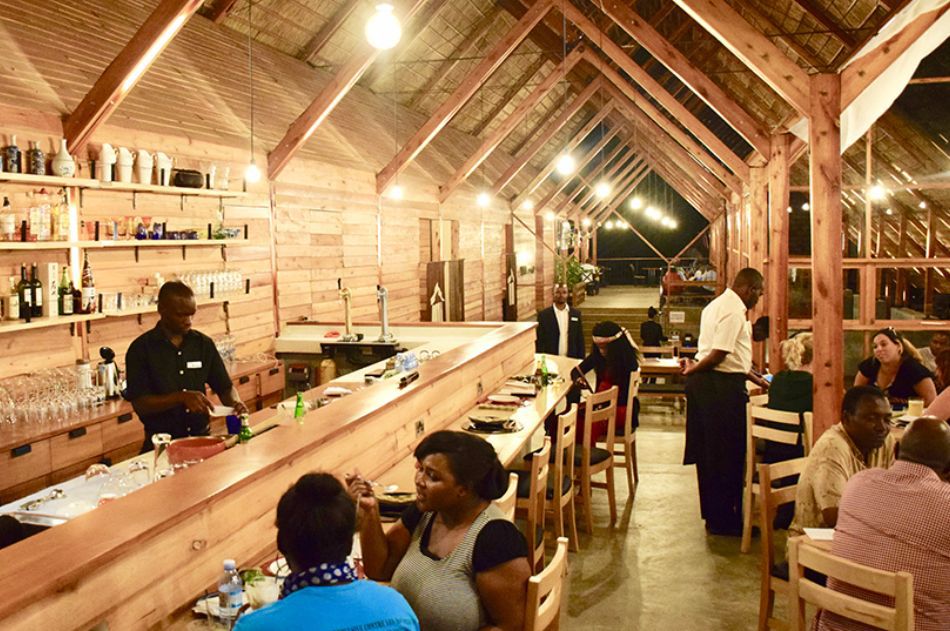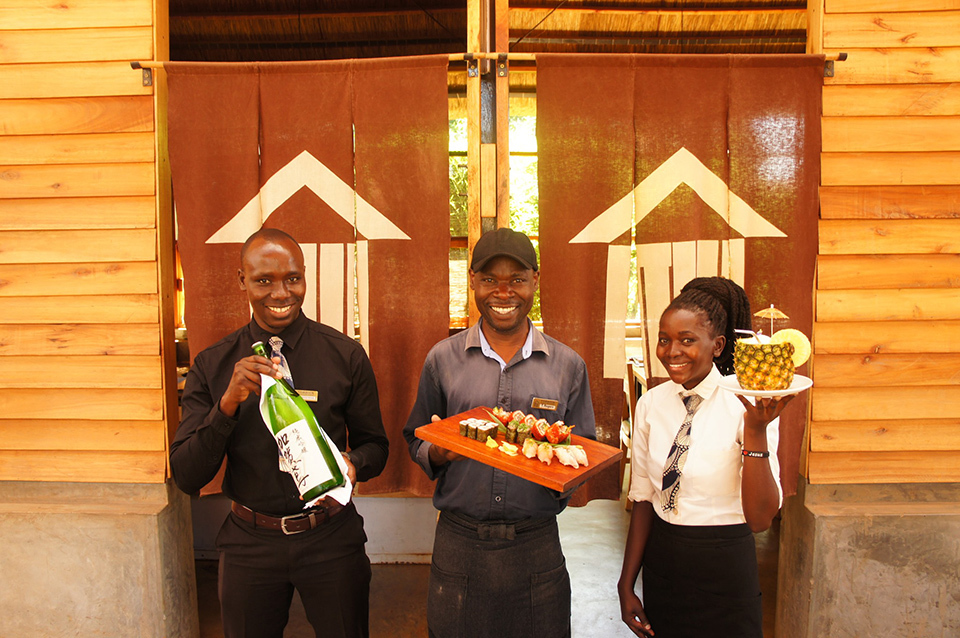 Yamasen is the first Japanese restaurant to have a Japanese chef in Kampala, the capital of Uganda. Initially, guests were mainly foreigners, but now locals also visit and enjoy its food. TIMOTHY LATIM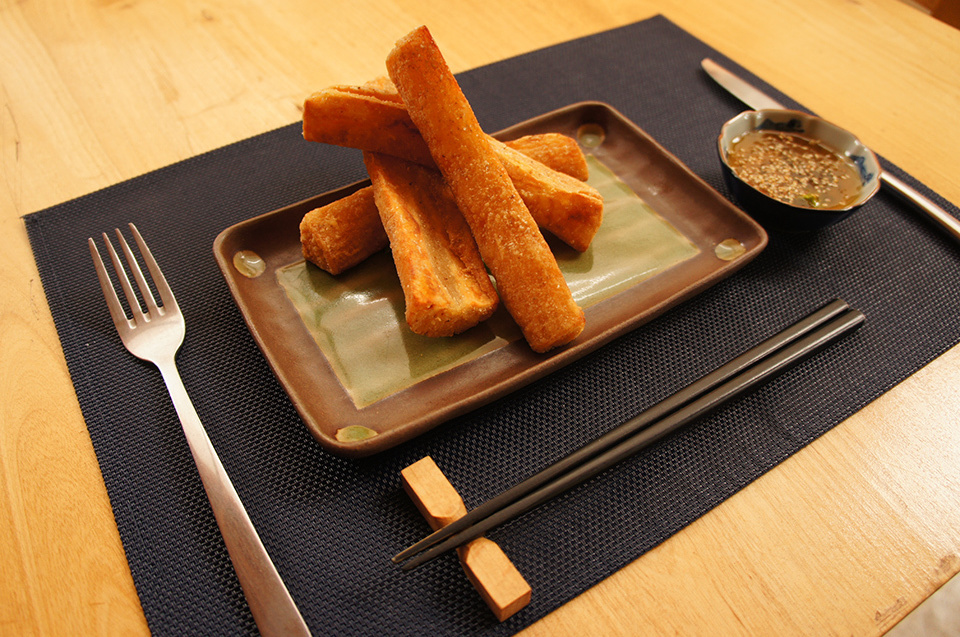 Local cassava, simmered in dashi and fried, is a popular item on Yamasen's menu.

 Miyashita admits that there were troubles along the way, but laughs and says she has forgotten them all. "Ugandans are such a positive people. I've been saved many times by the way they can let go of past issues. The population is growing and the country has momentum, with people thinking that tomorrow will be better than today and that the future will be even better still. This positivity is the engine that propels me forward."

 Cots Cots is also busy developing new business possibilities. The company collaborates with Miyagi Prefecture's Fisherman Japan, an association of young fishermen, to demonstrate the possibility of creating a value chain with pre-processed, high-value-added marine products from neighboring Tanzania. It is also working with Japanese trading firms that want to build responsible ties with local producers and help them to procure and distribute sustainably grown cotton.

 Captivated by Africa, Miyashita is generating value, step by step, thereby contributing to the continent's development. That is her mission, and she follows her path with light but determined steps.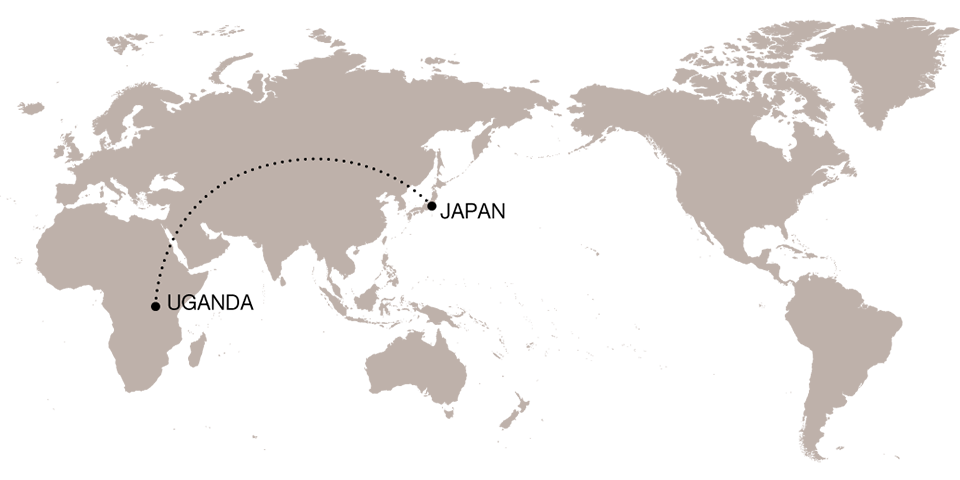 MIYASHITA FUMIKO
MIYASHITA Fumiko joined Saka No Tochu Co., Ltd., a venture company that advocates environmentally friendly farming, while a student at the Kyoto University Graduate School. In 2012, she began to deal with agricultural production and distribution in Uganda and relocated there as the firm's overseas representative in 2014. In 2017, she co-founded Cots Cots Ltd.