KARL BENGS
Location: Tokamachi, Niigata Prefecture
Hometown: Berlin
Job: Architectural designer, Karl Bengs and Associates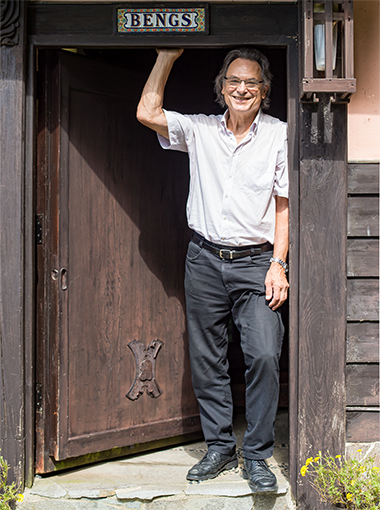 For Karl Bengs, reviving kominka (old Japanese farmhouses) is about more than just rebuilding a house: it's about preserving the history, culture and memories of a place. Bengs, who's been based in the picturesque mountains of Niigata for three decades, has become an advocate of traditional architecture and retaining the unique character of local areas.
Bengs' relationship with the Tokamachi region dates back to 1993, when he visited the area in search of old houses for a client in Germany. Upon finding a thatched 19th-century farmhouse in Taketokoro village, he decided to purchase and renovate it for himself, creating the residence he still calls home today.
Despite initially receiving a mixed response, the renovation was soon followed by requests from his neighbours. What had been a dwindling village began to be transformed, one house at a time, with the revitalised homes attracting new residents and breathing life into the community.
Pairing his passion for traditional wooden architecture with his experience in disassembling Japanese houses and transporting them to Europe, Bengs focuses his attention on the wooden core of the building. Exposing this structure not only reveals the original foundations but highlights the work of the carpenters who were involved in its construction. Working closely with the owners of the building, he then adds a mixture of Japanese and German fixtures to provide some modern convenience and comfort. Bengs has now renovated more than 60 buildings throughout Japan, mainly in the Tokamachi region, and continues to field enquiries on a weekly basis. His contribution to regional revitalisation has been recognised at both local and national levels.
Now in his late seventies, Bengs takes every opportunity that he can to try to inspire other people to take pride in their architectural and cultural heritage. "I'm proud that people from all over Japan ask me to talk about revitalising kominka," he says. "I'm happy if I can keep even one more old house alive."