Visit to Ise Jingu by Prime Minister Abe and G7 Leaders
On May 26, Mr. Shinzo Abe, Prime Minister of Japan, who is currently visiting Mie Prefecture to chair the G7 Ise-Shima Summit meeting, received G7 leaders in front of Uji-bashi Bridge at Ise Jingu or Ise Shrine as an official welcome event of the Summit. The G7 leaders were also welcomed by 46 children from kindergartens affiliated with Ise Jingu. After joining a tree-planting ceremony with Mr. Eikei Suzuki, the Governor of Mie, in which 20 local elementary school students participated, Prime Minister Abe and the other G7 leaders visited Shogu, enjoying Ise Jingu's solemn and majestic atmosphere.

In addition, at the Sanshuden (a rest house), G7 leaders had a chance to watch images of Ise Jingu on 8K Super Hi-Vision TV which is equipped with Japan's latest technologies.

Furthermore, the leaders were welcomed at the Sanshuden by Mr. Fumio Kishida, Minister for Foreign Affairs; Mr. Koichi Hagiuda, Deputy Chief Cabinet Secretary; Mr. Hiroshige Seko, Deputy Chief Cabinet Secretary; Governor Suzuki; and Mr. Kenichi Suzuki, Mayor of Ise City.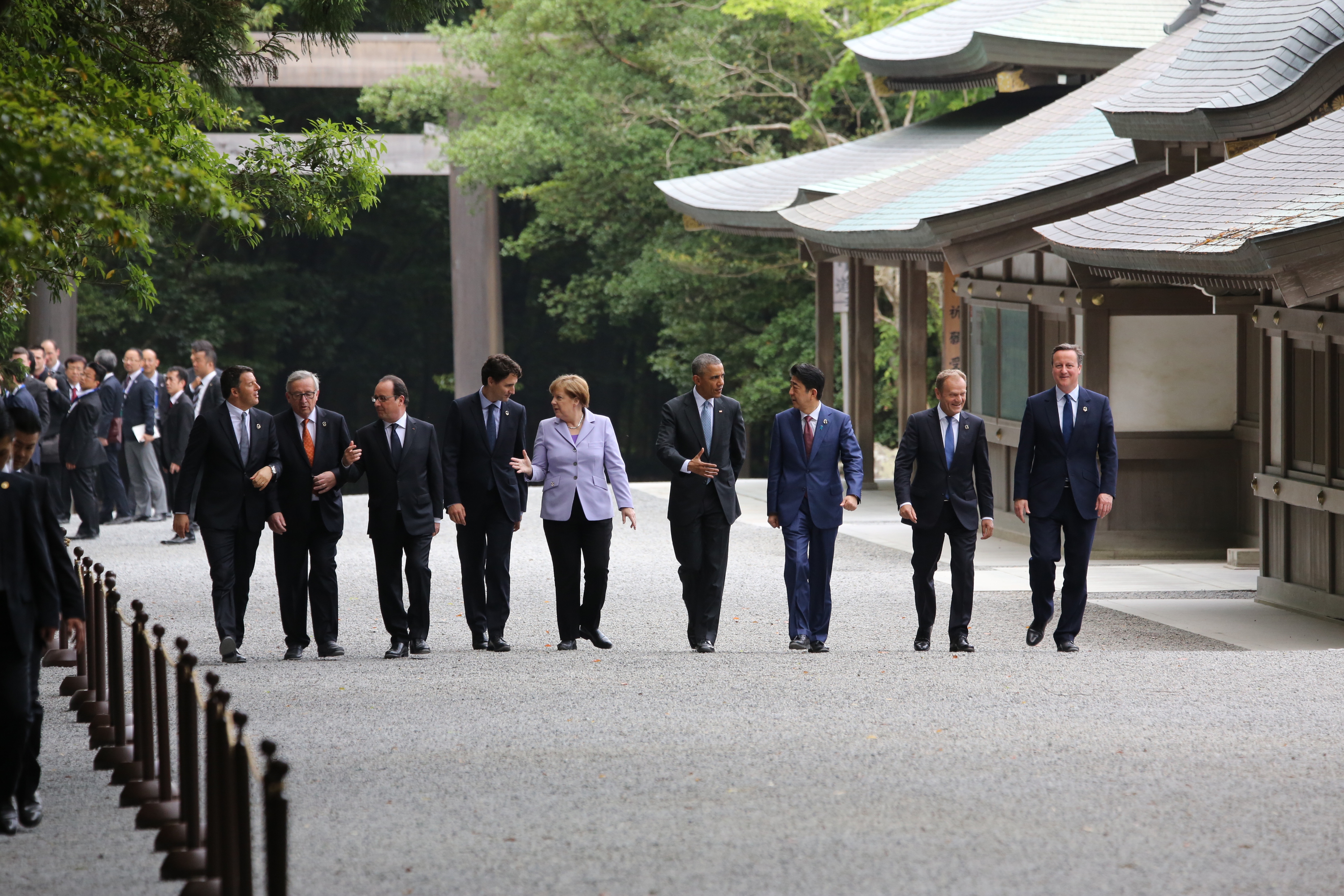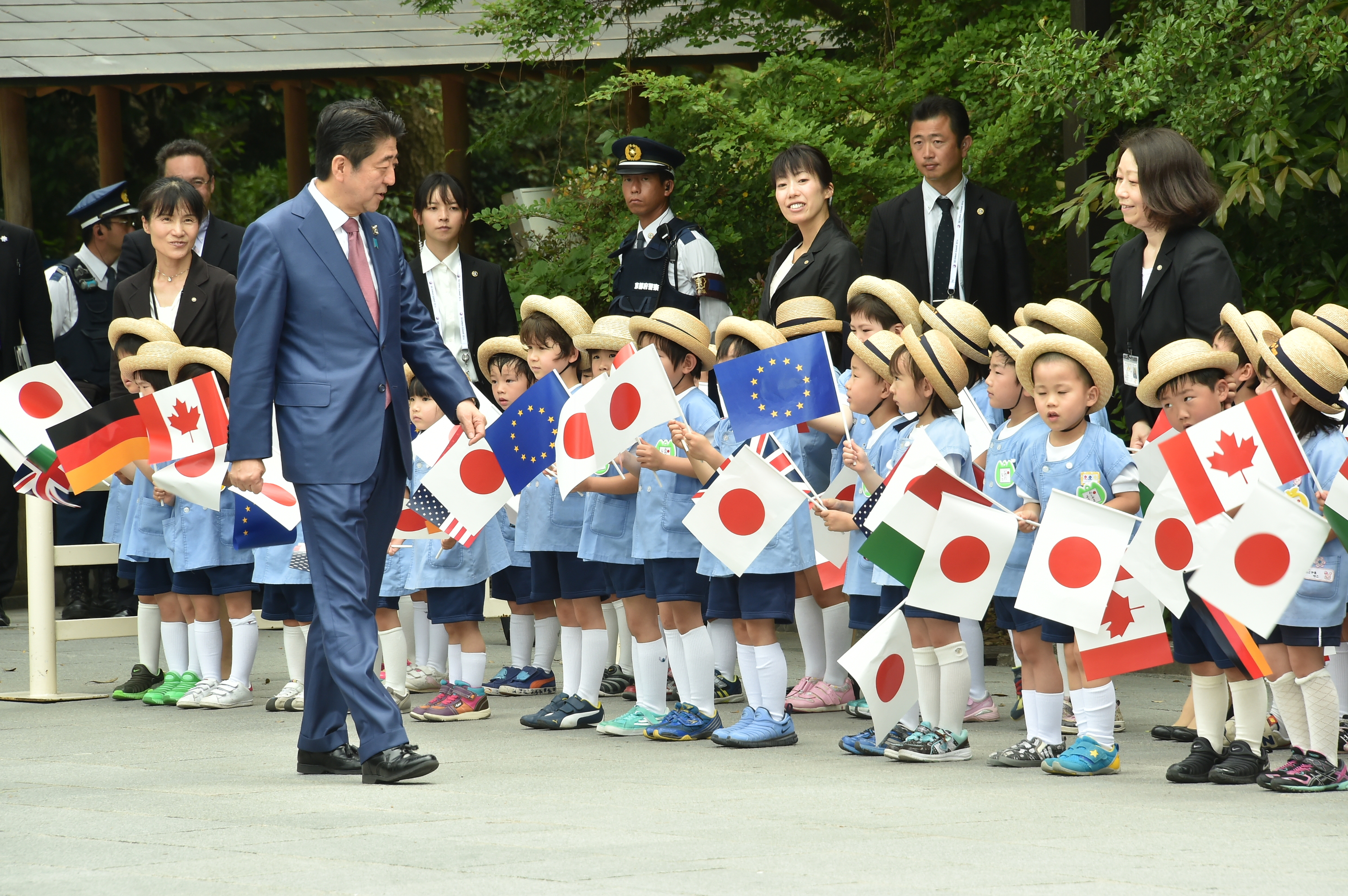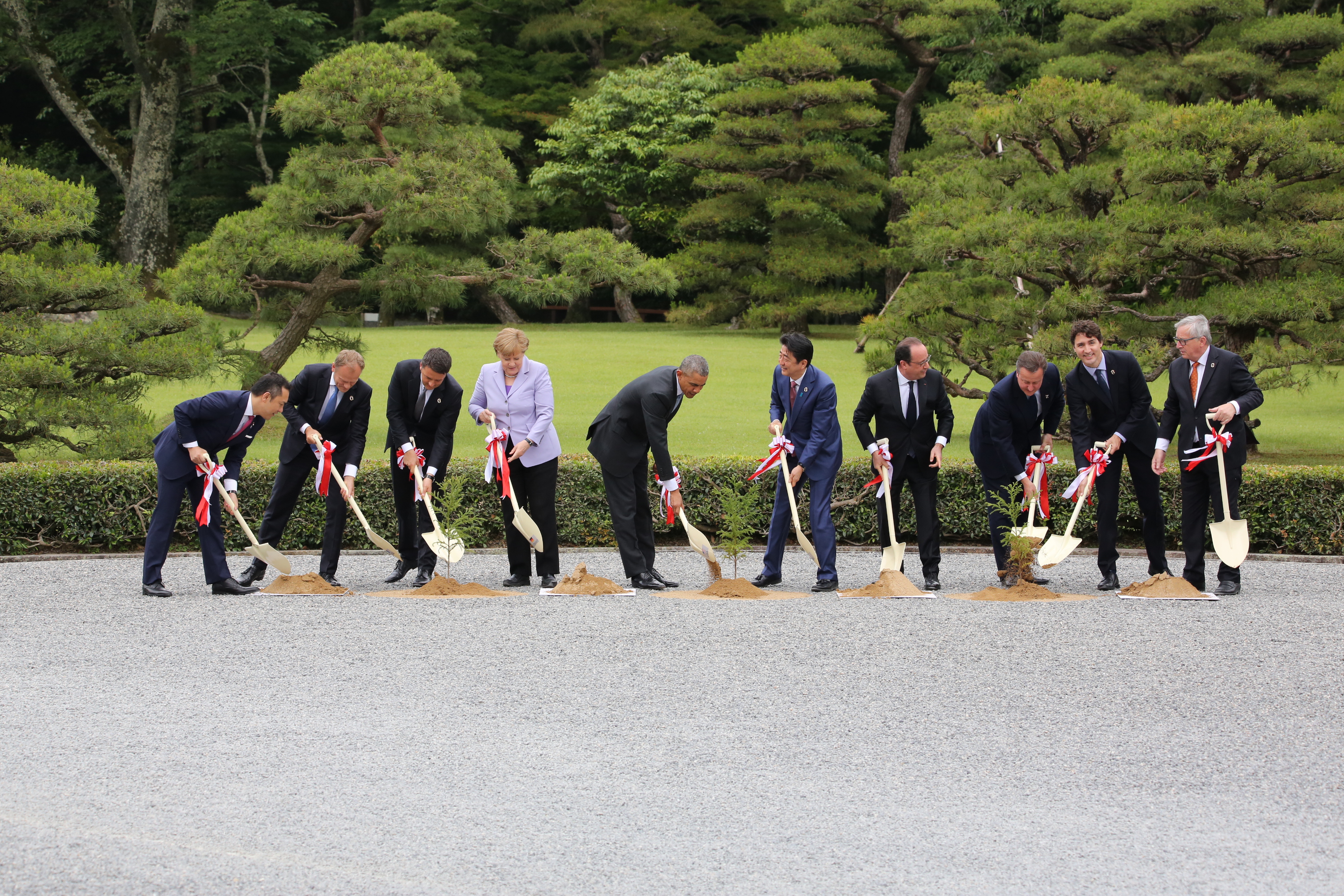 Japan-UK Summit Meeting
On May 25, commencing at 8:30 p.m. for approximately 35 minutes, Mr. Shinzo Abe, Prime Minister of Japan, held a Japan-UK Summit Meeting in Shima City (Kashikojima), Mie Prefecture with the Rt Hon David Cameron MP, Prime Minister of the UK, who is visiting Japan to attend the G7 Ise-Shima Summit. The outline of the meeting is as follows.

1. Opening (Japan-UK relations and G7 Ise-Shima Summit)

Prime Minister Abe welcomed Prime Minister Cameron's visit to Japan and expressed his gratitude for the hospitality during his recent visit to the UK. He also stated that he would like to work closely with Prime Minister Cameron to lead the G7 Ise-Shima Summit to a success.
In response, Prime Minister Cameron stated that he was pleased to be able to visit Japan, especially a wonderful location as Ise-Shima. Furthermore, Prime Minister Cameron stated that Prime Minister Abe's recent visit to the UK was a great success in terms of advancing the bilateral relations. He also praised the excellent state of preparations for the Ise-Shima Summit and stated that it was a pleasure to be able to have discussions with Prime Minister Abe at the night before the Summit.
The two leaders affirmed that they would strengthen the Japan-UK relations in a wide range of areas, including political and security issues, as well as economic areas such as trade, investment, and nuclear energy. In addition, ahead of the discussions at the G7 Ise-Shima Summit from the next day, the two leaders held an in-depth exchange of views on the global economy, which is the primary theme of the Summit, as well as anti-corruption measures, and other topics.

2. Japan-EU EPA

Touching upon the plan to hold a side event on the Japan-European Union (EU) Economic Partnership Agreement (EPA) on May 26, the two leaders confirmed that it would be important for global economic growth that the G7 leaders send a strong and positive message on the promotion of mega free trade agreements (FTA), including the Japan-EU EPA (http://www.mofa.go.jp/policy/economy/page6e_000013.html), the Trans-Pacific Partnership (TPP), and the Transatlantic Trade and Investment Partnership (TTIP). The two leaders also affirmed that they would closely cooperate to further promote negotiations towards the early realization of the Japan-EU EPA.

3. Other issues

They exchanged views on regional situations, including Russia and Ukraine, and Syria.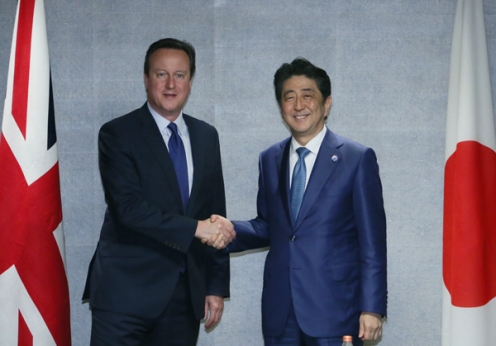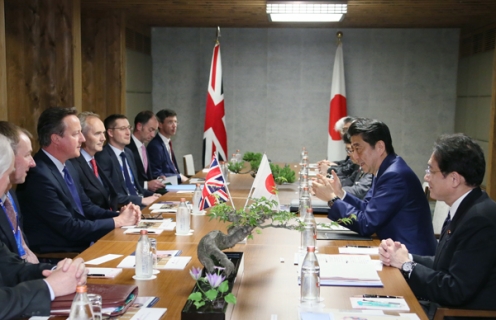 Signing of Grant Agreement with Ghana: Constructing an advanced research center for infectious diseases at the Noguchi Memorial Institute for Medical Research
On May 19, the Japan International Cooperation Agency (JICA) signed a grant agreement (G/A) with the Government of the Republic of Ghana to provide grant aid of up to 2.285 billion yen for the Project for the Construction of Advanced Research Center for Infectious Diseases at Noguchi Memorial Institute for Medical Research.

This project will build an advanced research center for infectious diseases at the Noguchi Memorial Institute for Medical Research (NMIMR) in Ghana and procure research equipment, strengthening the capacity for research and human resource development at the institute, and boosting the capacity to fight infectious diseases in Ghana and greater West Africa.

Bronchitis, malaria, HIV/AIDS, diarrhea and other infectious diseases account for more than 70 percent of major diseases in Ghana and measures against infectious diseases are an important part of the country's health strategy. Moreover, Ghana's national development plan for 2014–2017 cites the need for strengthening infectious disease research. The NMIMR has been internationally recognized for its central role in fighting infectious diseases in West Africa, its efforts including screening suspected cases in neighboring countries when Ebola hemorrhagic fever broke out and was declared an emergency in August 2014. The institution has also been actively expanding its research activities, which include commissioned research and studies as well as collaborative research with Japanese universities and other institutions, increasing the number of projects from 56 in 2010 to 78 in 2014. However, the NMIMR currently has difficulty securing enough research and experimentation space to ensure studies can be carried out safely and reliably, and this inadequacy of space impedes the progress of advanced research. To improve these circumstances, this project will construct an advanced research center for infectious diseases in the NMIMR, the center to include a biosafety level 3 laboratory and other research facilities, creating a system where more advanced research and experiments can be carried out safely and reliably. The institute also plans to accept internship students from the University of Ghana, which is expected to contribute to the development of young researchers in the country.

Since providing grant aid in 1979 to assist in establishing the NMIMR, JICA has provided technical cooperation and grant aid continuously, greatly contributing to improvement in the research capacity in the field of infectious diseases at the NMIMR. The NMIMR has now become known as a medical research institution representing not just Ghana but greater West Africa, and this project will further develop that reputation.