G7 Foreign Ministers Visit Hiroshima Peace Memorial Museum and Lay a Wreath at Cenotaph for Atomic Bomb Victims
On April 11, Foreign Minister Kishida and the other G7 Foreign Ministers, who are visiting Hiroshima Prefecture to attend the G7 Hiroshima Foreign Ministers' Meeting, visited the Hiroshima Peace Memorial Museum located in the Hiroshima Peace Memorial Park in Hiroshima City, Hiroshima Prefecture and laid a wreath at the Cenotaph for the Atomic Bomb Victims.

At the Hiroshima Peace Memorial Museum, Minister Kishida explained the reality of the atomic bombing to the G7 Foreign Ministers. The visit was concluded with the signing of the guest book by the G7 Foreign Ministers.

Following this visit, Minister Kishida and the other G7 Foreign Ministers visited the Cenotaph for the Atomic Bomb Victims, where they received a warm welcome by local Hiroshima City elementary school students and laid a wreath at the Cenotaph. Afterwards, by Secretary Kerry's proposal, Minister Kishida and the other G7 Foreign Ministers made an impromptu visit to the Atomic Bomb Dome.

This was the first visit to the Hiroshima Peace Memorial Park by all the G7 Foreign Ministers, including nuclear-weapon States, and was extremely important to foster international momentum toward the realization of a world free of nuclear weapons.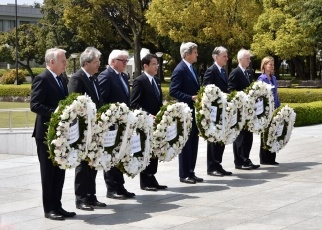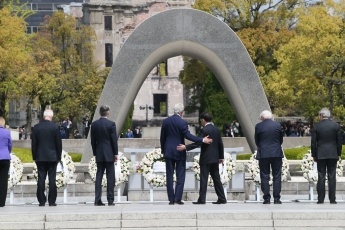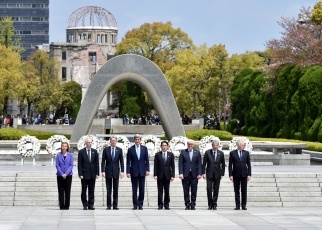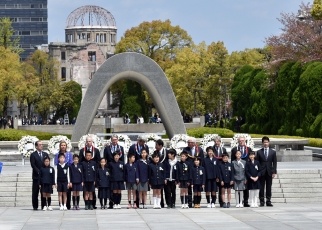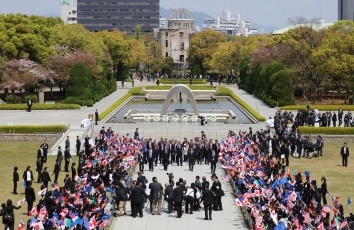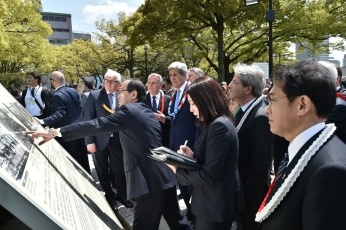 Japan-Ukraine Summit Meeting
On Wednesday, April 6, commencing at 6:00 p.m. for approximately one hour and 40 minutes (a small group meeting was held for the last 30 minutes), Mr. Shinzo Abe, Prime Minister of Japan, held a summit meeting with H. E. Mr. Petro Poroshenko, President of Ukraine, during his working visit to Japan. The overview of the summit meeting is as follows.

The two leaders held a joint press conference after the meeting. Prime Minister Abe and his spouse subsequently hosted a dinner reception, and the two leaders spoke on a wide range of topics regarding the relationship between the two countries, including culture and youth and sports exchange.

1. Opening remarks

(1) Prime Minister Abe welcomed President Poroshenko on his visit to Japan and commented that he hopes to engage in a frank and serious exchange of views at today's meeting and he intends to use this visit to Japan by President Poroshenko as an opportunity to further strengthen the Japan-Ukraine bilateral relationship.

(2) In response, President Poroshenko expressed his appreciation for the invitation from Japan and his desire to strengthen Ukraine's relationship with Japan in a wide range of areas, such as the economy and trade, nuclear safety, and people-to-people exchanges.

2. Situation in Ukraine

(1) Prime Minister Abe explained that Japan has been endeavoring to help find a peaceful solution to the situation in Ukraine, that Japan intends to firmly lead discussion of the situation in Ukraine by the G7 countries, as the G7 Presidency, at the G7 Ise-Shima Summit next monthOpen a New Window, and that while Japan understands the difficulties of the situation in Ukraine, it believes that implementation of the Minsk Agreements is the only path, it is important for Ukraine to fully implement the Minsk Agreements, and now is the time to demonstrate concrete results.

(2) In response, President Poroshenko provided a detailed explanation of the current situation in Ukraine and expressed his expectations for the initiative by Japan at the G7 Ise-Shima Summit next month.

3. Internal reforms in and assistance to Ukraine

(1) Prime Minister Abe expressed Japan's strong hope for Ukraine to become a country with resilience and sustainability, the need for further acceleration of reforms at this juncture, and Japan's intent to steadily implement the approximately 1.85 billion dollars of assistance that it has announced and thereby support Ukraine's reform efforts as long as Ukraine is moving forward with reforms.

(2) Prime Minister Abe also welcomed the realization of 300 million dollars in cooperative loans with the World Bank in March and explained that, using the approximately 1.5 billion yen in assistance approved in January, Japan intends to contribute to the improvement of living conditions for people in eastern Ukraine and so on. Furthermore, Prime Minister Abe commented that Japan plans to continue efforts to assist a recovery in Ukraine's economic conditions, such as by the renewal of the credit line of short-term trade insurance for 30 billion yen by Nippon Export and Investment Insurance in April and the dispatch of a Japanese financial expert to Kyiv in January. Additionally, Prime Minister Abe welcomed steady advances by cooperation in the energy field, a strong interest of President Poroshenko.

(3) In response, President Poroshenko expressed appreciation for Japan's assistance once again and Ukraine's strong commitment to the acceleration of internal reforms, such as anti-corruption measures and fiscal restructuring. President Poroshenko also noted Ukraine's desire for further advances in infrastructure and energy-related cooperation with Japan.

(4) Prime Minister Abe commented that he is encouraged by President Poroshenko's determination to proceed with reforms.

4. Bilateral relations

(1) Prime Minster Abe explained that in the area of people-to-people exchanges that the decision to begin mutual operation of diplomatic visa exemptions from June 1, 2016 is a significant outcome and that Japan plans to invite roughly 100 Ukrainians to Japan for training again this fiscal year, as it did last fiscal year. Additionally, in the economic area, he welcomed the entry into force of the Japan-Ukraine Investment Agreement in November 2015 (PDF)Open a New Window and expressed Japan's desire to conduct JETRO mission dispatches and hold the sixth Japan-Ukraine Economic Joint Meeting at proper timings and hope for further presence of Japanese companies in the Ukrainian market.

(2) Furthermore, Prime Minister Abe noted that this year marks five years since the accident at the Fukushima Daiichi Nuclear Power Station and 30 years since the accident at the Chernobyl Nuclear Power Plant and expressed Japan's desire to make further progress with Fukushima-Chernobyl cooperation, including holding the fourth meeting of the Japan-Ukraine Joint Committee for the Cooperation to Advance Aftermath Response to Accidents at Nuclear Power Stations within the year. Prime Minister Abe also mentioned that it is extremely important to build an interim storage facility for spent fuel from the Chernobyl nuclear site and that Japan has decided this time to make an additional contribution of approximately 3.5 million euros.

(3) In response, President Poroshenko expressed his satisfaction with steady development in the Japan-Ukraine relationship and his will to make 2017 the "Year of Japan in Ukraine" to mark the 25th anniversary of the diplomatic relationship and to strengthen collaboration with Japan in the field of Chernobyl assistance.

5. Cooperation in the international arena

(1) Prime Minister Abe expressed his gratitude for Ukraine's support for Japan's bid to become a permanent member of the United Nations Security Council and his pleasure that Japan and Ukraine are serving together as non-permanent members of the United Nations Security Council this year. He also commented that Japan hopes to strengthen cooperation in the international arena, including at the Security Council, and that it is very important for the international community to respond resolutely to North Korea's provocative actions.

(2) In response, President Poroshenko explained that Ukraine hopes to continue effective consultations at the Security Council, particularly since cooperation at the Security Council following North Korea's nuclear test and ballistic missile launch led to the Ukrainian measures.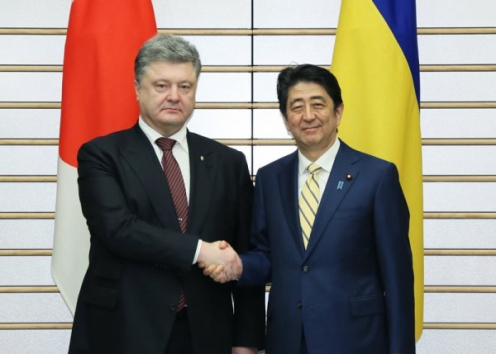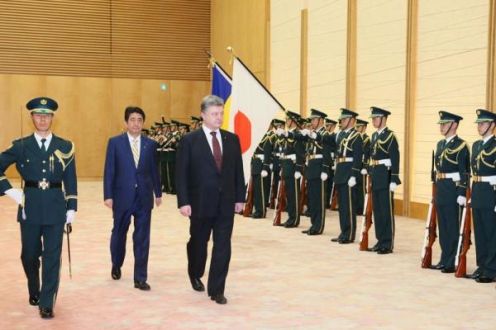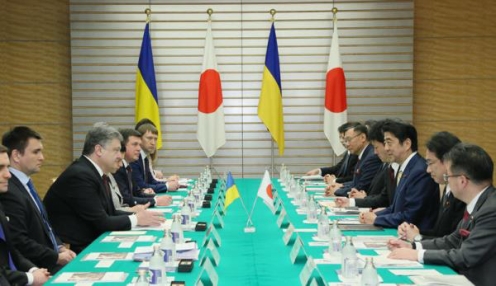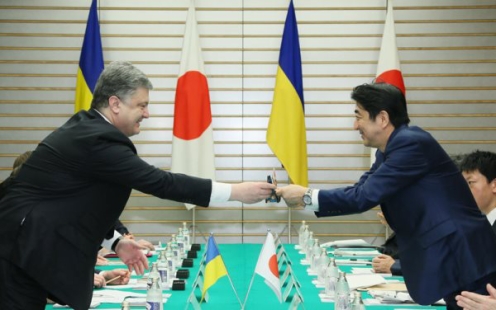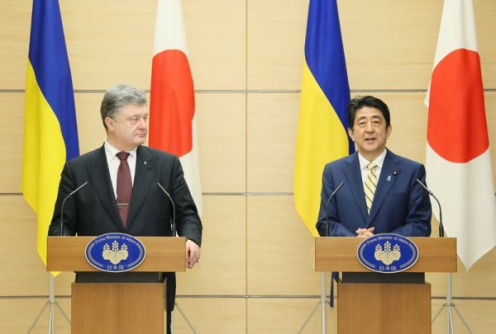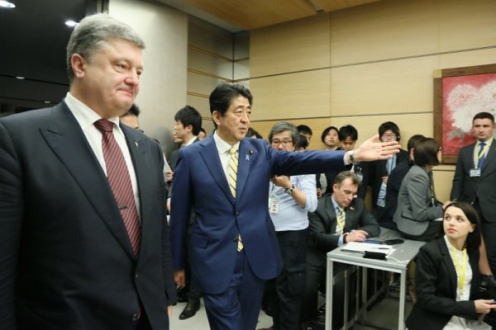 Signing of Japanese ODA Loan Agreement with Tanzania: Contributing to sustainable economic growth through improvements to the business environment
On April 11, the Japan International Cooperation Agency (JICA) signed a loan agreement with the Government of the United Republic of Tanzania in Dar es Salaam to provide a Japanese ODA loan of up to six billion yen for the Business Environment for Jobs Development Policy Operation.

Since the start of the 2000s, the gross domestic product of Tanzania has seen firm growth, averaging six to seven percent per year. However, due to complex permit application procedures, an immature financing and loan system, and the country's land acquisition system, among other factors, the World Bank's "Doing Business 2016" report ranks the country 139 out of 189 countries for ease in doing business. With a high population growth rate, 800,000 young people are said to enter the labor market each year, and there is a demand for stable employment opportunities.

Taking these circumstances into account, this program falls under Development Policy Lending (a non-project loan) that provides financial assistance based on progress in achieving organizational and policy reform action targets established to stimulate the private sector in Tanzania. For this loan, 10 policy actions were established on the basis of three pillars of reform: 1) business environment improvement, 2) market reforms for production elements such as labor, land and investment, and 3) creating employment and strengthening competitiveness for agribusiness, tourism and other industries. The specific 10 policy actions are: corporate registration and licensing, efficiency in port operations and customs improvements, corporate tax reform, labor market reforms, land policy reforms, financing access, rural road policy, agribusiness tax reform, food sanitation modernization, and strengthening the competitiveness of the tourism industry.

To stabilize economic growth in Tanzania over the mid- to long term, there is a need to support growth in domestic companies and further expand investment by foreign companies in Tanzania through measures that benefit the private sector as a whole. It is also important for the private sector to lead growth, which will pave the way to a more active domestic economy and create employment. By achieving the private sector-related policy and organizational reforms, this program is expected to contribute to an improved business and investment environment for companies from Japan and other countries. This program will be cofinanced by the World Bank, which signed a loan agreement (L/A) with the Government of Tanzania in September 2015 for 80 million US dollars for this program.