Japan-Palestine Summit Meeting
On February 15, commencing at 6:25 p.m. for approximately 45 minutes, Mr. Shinzo Abe, Prime Minister of Japan, held a summit meeting with H.E. Dr. Mahmoud Abbas, President of Palestine, who was making a working visit to Japan, at the Prime Minister's Office. The overview of the meeting is as follows.

1. Japan-Palestine relations

(1) Prime Minister Abe stated the following.
Japan has been steadily engaging in the economic development and human resources development needed for Palestine's nation building. Japan recently decided to extend new support worth more than USD 78 million to Palestine. I am delighted that operations have commenced at the Jericho Agro-Industrial Park (JAIP), a core project in the "Corridor for Peace and Prosperity" initiative. I hope cultural grant assistance related to preservation and presentation of Hisham's Palace in Jericho will contribute to Palestine's tourism development. Japan recently hosted the Senior Officials Meeting of the Conference on Cooperation among East Asian Countries for Palestinian Development (CEAPAD) and participants discussed assistance for Palestine that utilizes the knowledge of East Asian countries.

(2) In response, President Abbas stated the following.
I am extremely grateful for the new support announced by Japan. I feel proud of Japan's "Corridor for Peace and Prosperity" initiative. I am thankful for Japan's steady support for Palestine. I expect that the commencement of production at JAIP will bring peace to the region. I am also grateful for CEAPAD.

2. Peace in the Middle East

(1) Prime Minister Abe stated the following.
I note that the Palestine issue is a fundamental and historic issue that Middle East faces, and express concern over the deteriorating local situation in Palestine and the stalled peace process. I support President Abbas' efforts for peace through non-violence and dialogue. As a non-permanent member of the United Nations Security Council (UNSC) and holder of the G7 Presidency, I would like to closely coordinate with President Abbas and make further contributions to reaching a stable solution in the Middle East.

(2) President Abbas stated the following.
Relations between Palestine and Israel remain deadlocked. I hope that this situation will change. If an international conference on Middle East peace is held in the future, I hope Japan will also participate. Settlement activities by Israel are a violation of international law and an obstacle to a two-state solution. However, there is no change to my position of resolving the issue through negotiations with Israel. I hope Japan will play an even more proactive role in achieving peace in the Middle East.

3. Regional affairs

In addition, the two leaders exchanged views on regional affairs, including Syria, and President Abbas emphasized his position of opposing terrorism and violent extremism.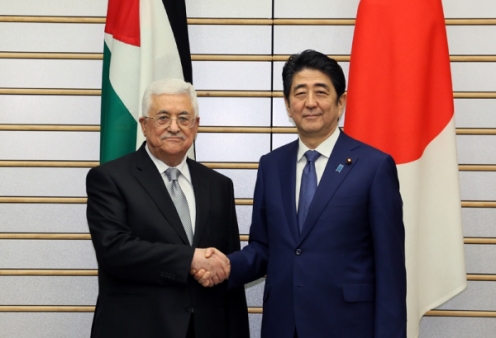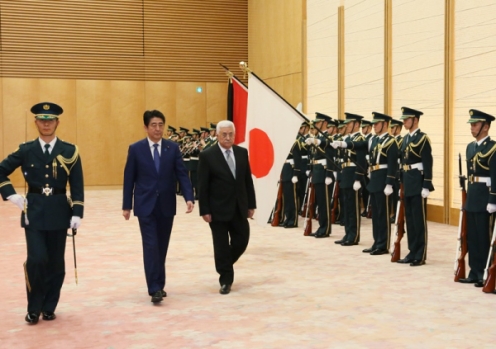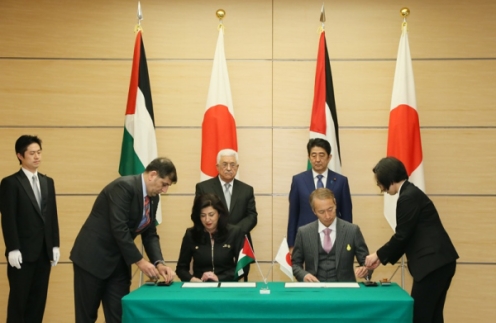 Signing of Grant Agreement with Nepal: Hospital reconstruction and bridge construction to supporting rehabilitation and recovery in regions affected by the Nepal earthquake
On February 17, the Japan International Cooperation Agency (JICA) signed a grant agreement (G/A) with the Government of Nepal to provide grant aid of up to 4 billion yen for assistance for the Program for Rehabilitation and Recovery from Nepal Earthquake.

Under the Build Back Better (BBB) concept of rebuilding to a higher standard than before a disaster, this project will reconstruct Bir Hospital and Paropakar Maternity and Women's Hospital in Kathmandu Valley, replace water transmission pipelines in Sindhupalchowk District where the greatest damage was sustained, and build bridges in Gorkha District where the epicenter was, thereby rehabilitating and restoring public services, and strengthening the provision of public services to the Mountain Region of the north to prepare against future disasters.

On April 25, 2015, an earthquake of magnitude 7.8 struck approximately 80 kilometers to the northwest of Kathmandu, the capital city of Nepal, and an aftershock with a magnitude of 7.3 occurred on May 12. According to a post disaster needs assessment (PDNA) conducted by the Government of Nepal with assistance from the World Bank, the EU, the United Nations Development Programme, JICA and others, widespread damage and destruction resulted from the earthquake and aftershock, including 8,702 dead, 22,303 injured, 498,852 demolished homes and 256,697 damaged homes.

According to the PDNA, the total amount of damages caused by the earthquake reached 706.5 billion Nepalese rupees (approximately 868.9 billion yen) and the total cost required for rehabilitation and recovery is 669.5 billion rupees (approximately 823.5 billion yen). The country's economy has also been affected according to a report by the Asian Development Bank (ADB), lowering the estimated real GDP for the 2014–2015 fiscal year (from July 2014 to July 2015) by 0.8 percent to 3.8 percent.

Based on the BBB concept adopted at the Third UN World Conference on Disaster Risk Reduction in Sendai, Japan, in March 2015, the Government of Japan's policy for this earthquake and aftershock is not merely to restore conditions to how they were before the disasters, but to support recovery using structures that are more resilient than before.

As part of this project, JICA will support the below four sub-projects that were assessed as requiring urgent assistance through the Project on Rehabilitation and Recovery from Nepal Earthquake (technical cooperation for development planning studies and Fast Track System adaptive assistance), which was conducted immediately after the earthquake struck.

Bir Hospital reconstruction – Kathmandu

The 50-year-old third ward (approximately 3,100 square meters in size) of Bir Hospital will be reconstructed as the only ward of the four wards of the hospital to be determined as completely destroyed. The largest and oldest hospital in the Kathmandu Valley, Bir Hospital is also one of the nation's top referral hospitals and intended to provide services not only for local people but for people from the entire country.

Paropakar Maternity and Women's Hospital reconstruction – Kathmandu

Along with Bir Hospital, Paropakar Maternity and Women's Hospital (approximately 5,400 square meters in size) is also a top referral hospital in Kathmandu Valley, and will be reconstructed. Accepting expectant and nursing mothers from not only Kathmandu Valley but the entire country, Paropakar Maternity and Women's Hospital is a facility that directly benefits many people and will be reconstructed. This hospital is important also from the perspectives of gender equality and assisting vulnerable populations.

Replacement of Water Transmission Pipeline in Chautara – Sindhupalchowk District

Water transmission pipelines damaged in Chautara, a city in Sindhupalchowk District, will be replaced. The water supply system for Chautara consists of three water sources, each of which is connected by a water transmission pipeline to purification plants constructed on the outskirts of the city to supply urban water. The water transmission pipelines were damaged in the earthquake, resulting in leakage, and speedy restoration is hoped for. This sub-project anticipates using approximately 20 kilometers of earthquake-resistant ductile pipes for replacement.

Bridge construction along the Gorkha-Barpak Road – Gorkha

This sub-project will construct three bridges each between 30 and 50 meters in length at river crossing sites along the road between Gorkha Municipality—the district headquarters of Gorkha District—and Barpak which serves as a northern base for the district, and construct one bridge 134 meters in length at the crossing point of a road connecting the Gorkha-Barpak Road to Saurpani, near the epicenter of the earthquake. The Gorkha-Barpak road has always had vulnerabilities, including major impedances during the rainy season, when landslides such as occurred after the earthquake and multiple crossing points without a bridge or other crossing structure make passage along the road difficult. This assistance will facilitate year-long passage on the route, and contribute to the restoration of Gorkha District and strengthening of public service outreach.

In addition to this assistance, JICA is providing reconstruction assistance for the houses and schools most affected by the earthquake through the Emergency School Reconstruction Project and the Emergency Housing Reconstruction Project with Japanese ODA loan agreements signed on December 21, 2015.