Japan-Uganda Summit Meeting
On September 10, commencing at around 6:20 p.m. for approximately 40 minutes, Mr. Shinzo Abe, Prime Minister of Japan, held a summit meeting with H.E. Mr. Yoweri Kaguta Museveni, President of the Republic of Uganda, who madean Official Working Visit to Japan. The overview is as follows.

After the meeting, the two leaders signed a joint statement (http://www.mofa.go.jp/files/000099016.pdf ), and an exchange of notes concerning yen loans for the "Kampala Flyover Construction and Road Upgrading Project" was signed in the presence of the two leaders. Following that, a joint press occasion by the two leaders was held. Later, a dinner hosted by Prime Minister Abe and Mrs. Abetook place, and the conversation covered a wide range of topics concerning the relationship between the two countries, including the next Tokyo International Conference on African Development (TICAD), human resources development, education issues, and activities by Japanese non-governmental organizations (NGOs) in Uganda.

1. Opening remarks, TICAD

(1) Prime Minister Abe welcomed this 6th visit to Japan by President Museveni, a senior statesman of Africa and an old friend of Japan, expressing his gratitude for the President's contribution to the TICAD process, and explained that Japan intends to present its unique contributions to Africa including quality infrastructure investment, human resources development, and realizing human security. Prime Minister Abe expressed his intention to cooperate with Uganda toward a successful TICAD.

(2) In response, President Museveni expressed his gratitude for Japan's invitation, and stated that the relationship between Japan and Uganda had been a firm friendship backed by cooperation in a variety of fields, and that he was thankful for the cooperation extended by Japan for 50 years. President Museveni also expressed his intention to cooperate with Japan on global challenges, and that he would like to invite Prime Minister Abe to Uganda.

Furthermore, President Museveni explained that this was his sixth visit to Japan, and four of those visits were to attend TICADs, and cooperation between Japan and Africa had become stronger through TICAD.

2. Bilateral relations

(1) Prime Minister Abe expressed his intention to promote "quality infrastructure investment" that will contribute to Uganda's national development, and to support Uganda's growth by encouraging Japanese companies to establish businesses there, based on public-private partnership.

(2) In response, President Museveni once again expressed his gratitude for Japan's support in many fields for years, and explained Uganda's own efforts in fields such as infrastructure, education and health, and expressed his expectation for Japan's continuous support. The President also expressed his expectation over boosting export activity from Uganda to Japan and promoting investment in Uganda by Japanese companies.

3. Strengthening cooperation in the international arena

The two leaders shared the view that they will cooperate on the various issues facing the international community, including achieving the United Nations Security Council reform.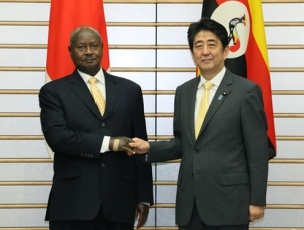 (Photo: Cabinet Public Relations Office)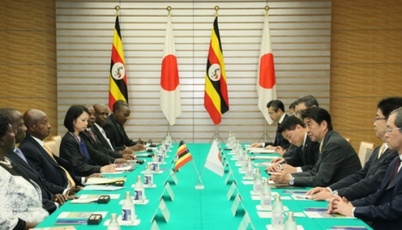 (Photo: Cabinet Public Relations Office)
Emergency Grant Aid for transporting humanitarian supplies in Nepal
1. On Friday, September 18, the Government of Japan decided to extend the Emergency Grant Aid of 1 million US dollars to support for transporting humanitarian supplies to those affected by the earthquake in Nepal through World Food Programme (WFP).

2. Considering the growing needs of humanitarian supplies through air transport due to the massive damage to road infrastructure caused by the earthquake and the difficulties of road transport because of the ongoing monsoon, the Government of Japan will support air transport services for delivering humanitarian supplies such as shelters, sanitation goods and foods to isolated and mountainous areas.

3. The Government of Japan will swiftly implement the aid, in collaboration with WFP to deliver humanitarian supplies to those affected by the earthquake steadily and continue to put efforts in providing effective assistance for achieving Nepal's "Build Back Better" as much as possible.
Technologies Selected for "Innovative Technologies 2015": Exploring and Evaluating Japan's Outstanding Digital Content Technology
The Ministry of Economy, Trade and Industry (METI) has selected 20 outstanding content technologies for Innovative Technologies 2015, which is part of the Program to Promote Innovation in Digital Content Technologies, aiming to promote their further utilization and development.
All the selected technologies will be exhibited at the Digital Content Expo 2015, which will be held at the National Museum of Emerging Science and Innovation from October 22 to 25, 2015. Visitors will be able to experience the technologies firsthand.


1. Outline of Innovative Technologies 2015

Based on the direction of technological development in the Technology Map 2015 (content industry),* the purpose of the event is to explore and evaluate advanced technologies that are expected to contribute significantly to making the map a reality, as well as to share those technologies with people involved in industry-academia collaboration efforts and pass them on to society as a whole, thereby shaping the future of Japan's content technology.

The selected content technologies will be exhibited at the Digital Content Expo (DC EXPO) 2015, which is to be held during the period mentioned above.

At the DC EXPO, METI will select, from among the technologies selected for Innovative Technologies 2015, technologies with especially strong potential to have ripple effects and applications in areas other than the content industry and will recognize them with a Special Award.

The Special Awards are scheduled to be presented for the following four categories:
Industry Technologies expected to have strong ripple effects and applications in industrial fields outside the content industry
Culture Technologies expected to have strong ripple effects and applications in cultural and artistic fields
Human Technologies expected to have strong ripple effects and applications in the area of life sciences
Jury's Special Prize Technologies worthy of special mention regardless of the above categories

*Note: For more information on the Technology Map 2015 (content industry), see the following website:
http://www.meti.go.jp/policy/mono_info_service/contents/downloadfiles/1507map.pdf (PDF:1,546KB) (in Japanese)

2. Technologies selected for Innovative Technologies 2015

METI called for candidate technologies for Innovative Technologies 2015 from both industry and academia and received 69 applications and recommendations. Through strict examination of the applications and recommendations by an evaluation committee comprised of content technology experts from industry and academia, METI selected 20 outstanding content technologies for recognition at Innovative Technologies 2015. For the names of the selected technologies and successful applicants, see the Appendix.
In addition, for more details on the selected technologies, visit the following official website:
http://www.dcexpo.jp/archives/2014/exhibition_indexPlang=en.html (External Site Link)

3. Outline of the Digital Content Expo 2015

The Digital Content Expo (DC EXPO) 2015 is an international exhibition where a wide variety of technologies related to the digital content industry are exhibited. As an official CoFesta (Japan International Content Festival) 2015 event, the DC EXPO will be held for the eighth time in 2015. Under the theme of "Bridge of Innovation," the expo will feature displays―such as those introducing the technologies selected for Innovative Technologies 2015―that will allow visitors to experience cutting-edge technology, in addition to events such as symposiums led with the participation of notable national and international public figures, with the goal of providing many people ranging from domestic and foreign content technology engineers to visitors from among the general public, with an opportunity to experience future content technologies.

Dates and opening hours: From October 22, Thursday to 25, Sunday, 2015, from 10:00 a.m. to 5:00 p.m.
* Visiting the venue in the afternoon on October 22 requires prior registration.
Venue: National Museum of Emerging Science and Innovation (Miraikan), 2-3-6 Aomi, Koto Ward, Tokyo.
Organizers: METI, Digital Content Association of Japan (DCAJ)
Admission: Free
*Please note that some of the programs charge a materials fee. An admission fee is required for the permanent exhibition facilities of the National Museum of Emerging Science and Innovation.
Official website: http://www.dcexpo.jp/en/ (External Site Link)

(Inquiries about the Digital Content Expo 2015)
Digital Content Expo organizers (DCAJ)
Persons in charge: Naobumi Seo, Kazunobu Funami, Mayumi Tanabe
Telephone: +81-3-3512-3903
E-mail: info@dcexpo.jp

Division in Charge
Media and Content Industry Division, Commerce and Information Policy Bureau