The Prime Minister Attends a Party to Honor the 60th Anniversary of the Productivity Movement of the Japan Productivity Center
[Provisional Translation]

Prime Minister Shinzo Abe attended a party hosted by the Japan Productivity Center in Tokyo to honor the 60th anniversary of the Productivity Movement.

The Prime Minister said in his address,
"I think it would be no stretch to say that the 60 year history of the Japan Productivity Center is one and the same with the history of the Japanese economy after World War II.
It is no simple task to convince labor and management to join hands under the motto of 'improving productivity,' and yet I believe that Japan's success in moving out of the devastation after World War II and achieving its globally preeminent advanced economic growth was truly the result of such cooperation. In times of crisis, labor and management do not trip over each other, but rather join forces with the Government, share wisdom, and give birth to positive economic cycles throughout Japan. Now, in the form of Abenomics, this post-war Japanese tradition is again facing up against a crisis of economic decline, and is once more propelling our country forward. I believe that the groundwork for that tradition was laid by the Japan Productivity Center. Under the strong leadership of Chairman Mogi, you have pushed forward with determination on the issue of improving productivity. I want to again express my gratitude for all of your achievements through the central role you have played in that national movement.
The tremendous improvement in corporate profits we are seeing as a result of the three arrows of Abenomics will lead to improvements in employment and wages, which will lead to consumption and investment. Right now, we are truly seeing the birth of a positive economic cycle. However, there is still much left to be done in order for the results of that positive economic cycle to take hold throughout all of Japan. Japan faces the issues of a full-on declining birthrate and aging population, as well as a population projected to decline. What necessary piece of continuous growth in the Japanese economy still remains to be tackled? The service industry.
In the past sixty years, productivity in Japan's manufacturing industry has dramatically improved and has become a model for the rest of the world. Yet at the same time, our industrial structure has changed greatly. Right now, the service industry accounts for 70% of Japan's GDP and employment. However, for a number of years, the productivity of the service industry has been at a low level compared to the manufacturing industry or the industries of other countries. I believe that our current situation is one in which the service industry is not achieving its full potential as an industry. In the future, it is projected that we will see the creation of a market for the service industry and its expansion through outsourcing from the manufacturing sector and new demand created through changes to the structure of society. Stagnation in the productivity of the service industry poses difficulties for the improvement of the Japanese economy as a whole. I am convinced that we should turn our attention to the service industry as a new chapter in the national movement for improving productivity.
The time is ripe. In the Japan Revitalization Strategy formulated in June last year, I positioned the improvement of the productivity of the service industry as a trump card for economic growth. The service industry supports the bulk of employment opportunities in local communities, and holds the key to regional vitalization. For that reason, I positioned the improvement of the productivity of the service industry as a main axis of the comprehensive strategy for overcoming population decline and vitalizing local economy compiled at the end of last year. The time is now for a 'service productivity revolution.'
I believe that we should aim for three directions when considering the service productivity revolution. First, we should aim for an innovative service industry. The examples of Google and Amazon clearly show that the service field is a new industry that can change the world. In Japan too, we must proactively pioneer new frontiers. The seeds planted by the Bill for Strengthening Industrial Competitiveness in January of last year are budding and blossoming. For example, it has become possible to create sports club initiatives that contribute to the health and longevity of the elderly, or food distribution services based on diets set out by doctors. Therefore, we are seeing the birth of a variety of new services that transcend ministry and agency barriers. Using this framework, we are encouraging prompt action beyond the borders of ministries and agencies.
The introduction of IT technology is an effective way of enhancing the quality of services. A laundry business in Kyoto has realized a method of repairing clothes with sentimental value without harming the base fabric, giving the service a high added 'emotional' value. In order to have more businesses practice this kind of aggressive management, we formulated guidelines in February and gathered concrete examples of productivity improvements. The manufacturing subsidies reinstated by the Abe Administration have been extended to the service industry, and are already supporting 2,000 innovative services. We will continue to offer support according to our guidelines and spread examples of successes across the entire country. In addition, from the perspective of taxes, we are supporting the establishment of a productivity improvement and capital investment promotion tax system.
Second, we should aim to build a respected service industry. The services provided in Japan are wonderful. Our hotels and restaurants offer attentive care to everyone they serve, allowing for all to enjoy the spirit of hospitality. Voices of praise from the many tourists who visit Japan from overseas can be heard across the country. On the other hand, if we are to truly view service as an industry, it is not enough that they simply be of 'good quality.' Unless high quality services receive praise appropriate to their quality, and are priced accordingly, they cannot be developed as a business. Furthermore, the people on the front lines who think of innovative services will not be rewarded, and service will not develop as an industry. We must create a society that correctly evaluates wonderful services and respects high-quality ones. To that end, we must inspire the ambition of business people offering services to always aim higher, and we need to improve the mindset of consumers regarding services as well.
We must create measures by which high quality services can be evaluated and respected all around the world. As part of that, I have something that I would like to announce today. I will stand at the head of the national movement for the creation of high-quality services that are both supported by consumers and highly marketable. From this year, we will establish a Japan Service Grand Prize as a Prime Minister's Award. We will also expand systems to make the quality of services 'more visible' so that consumers will be able to accept a variety of services with peace of mind.
Third, we should aim for a global service industry. When travelers come to Japan, they will experience the quality of Japanese services. This is the important first step toward spreading the Japanese service industry across the world. In addition to requiring displays and menus to be available in multiple languages at retail stores, restaurants and hospitals, we will create a system to spread compatibility with foreign-issued credit cards and develop those systems throughout the country. The Japanese services expanding overseas are evangelists for Japan's good traditions and culture. Already all around the world, there are many fans of innovative Hakata ramen noodles, and there are many people in Shanghai, China, who enjoy large Japanese-style bathhouses. The spread of the service industry will also help spread Japan's food culture and lifestyle customs across the globe. I believe that the extension of the service industry across national borders will give rise to an even better world. We will take the invaluable opportunity of the 2020 Tokyo Olympic and Paralympic Games to create the service productivity revolution. Innovative, respected, and global services – I hope to develop such a national movement with the cooperation of everyone in the Japan Productivity Center. Japan shall see an increase in companies taking after the excellent examples of the past, and they will give rise to a wave of innovation. The first, new chapter of the service productivity revolution starts from right here.
I expect that the Japan Productivity Center will continue to play the role of strongly driving the Japanese economy forward in the future as well. This year is your sixtieth, and I would like to conclude my remarks by saying that I pray that you too will greet your 100th anniversary in a Japan shining with vitality."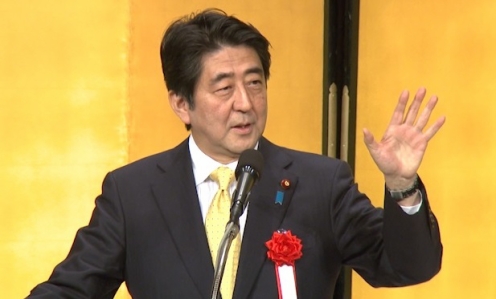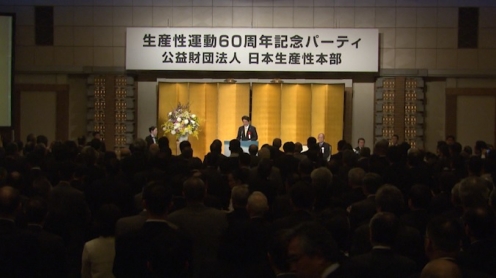 Japan-Ukraine Foreign Ministers' Meeting
On March 2, commencing at approximately 7:00 p.m. for around one hour and 20 minutes, H.E. Mr. Fumio Kishida, Minister for Foreign Affairs of Japan, held a foreign ministers' meeting in the form of a working dinner with H.E. Mr. Pavlo Klimkin, Minister for Foreign Affairs of Ukraine, who is paying a visit to Japan as a Guest of the Ministry of Foreign Affairs. The overview of the meeting is as follows.

1 Beginning

At the beginning, Minister Kishida, welcoming Minister Klimkin's first visit to Japan and their reunion, stated that Japan has been consistently contributing to resolving the issues surrounding Ukraine, respecting Ukraine's sovereignty and territorial integrity. Minister Kishida explained that Japan has pledged and is steadily implementing support of largest scale on an individual country basis in order to encourage efforts by Ukraine towards reforms. In response, Minister Klimkin expressed his sincere gratitude for the support extended by the Government of Japan thus far, as well as satisfaction with the visit to Japan, stating that Japan is the most important strategic partner in Asia and it was not a coincidence Japan has been chosen as the first destination of his visit to Asia.

2 The Ukraine situation and support for Ukraine

Minister Kishida, while welcoming the ceasefire reached in Minsk on February 12, expressed concern that hostilities are continuing in some area of eastern Ukraine even after the Minsk agreement and stated that Japan attaches importance to the solidarity of G7 and is actively working towards a peaceful and diplomatic solution. In response, Minister Klimkin expressed his gratitude for Japan's proactive contribution. Minister Klimkin also provided a detailed explanation of the progress made in implementing reforms and the situation in Ukraine.

3 Investment agreement

The two Ministers welcomed the signing of the Japan-Ukraine Investment Agreement (http://www.mofa.go.jp/press/release/press4e_000624.html) in February this year, and expressed expectation that economic relationship of both countries will develop further as a result of the conclusion of the Investment Agreement.

4 Cooperation on aftermath response to accidents at nuclear power stations

The two Ministers acknowledged that to share the experience of Fukushima and Chernobyl between the two countries and cooperate with each other will be meaningful. In addition, Minister Kishida proposed holding the third meeting of the Japan-Ukraine Joint Committee for the cooperation to advance aftermath response to accidents at nuclear power stations within this year. Minister Klimkin expressed his support for the proposal.

5 Regional and international affairs

Minister Kishida explained the increasingly severe security environment surrounding Japan, and sought Ukraine's understanding. In response, Minister Klimkin underscored that Japan's security is also important for Ukraine.

In addition, the two Ministers shared the view on cooperation in the Japan-GUAM framework.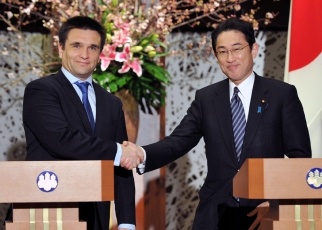 Japan Disaster Relief Rescue Team was awarded IER "Heavy" classification
1. The Japan Disaster Relief Rescue Team underwent INSARAG External Re-Classification (IER) process from March 2 to 5, and it was awarded "Heavy" classification, which is the best of ratings following the previous award of "Heavy" classification in 2010. IER is, an UN external classification process to evaluate the operational capability and capacity of Urban Search and Rescue (USAR) teams.

2. The JDR Relief Team, comprised of seventy members from the Ministry of Foreign Affairs, National Police Agency, Fire and Disaster Management Agency, Japan Coast Guard, JICA and registered medical and structural assessment experts by JICA underwent the observation through scenario-based exercise during non-stop approximately 40 hours. This exercise was held at the Hyogo Prefectural Emergency Management and Training Center.

3. IER aims for standardization of the organization and capacity of USAR teams and for efficient coordination of USAR teams deploying in the disaster-affected areas according to their classification. "Heavy" classification of the JDR Rescue Team will further promote their disaster relief activities.