[Ministry of Foreign Affairs] [Friday, Nov 7, 2014]
Emergency Grant Aid for Flood Disaster in North India and Northeast Pakistan
1. In light of the flood damage caused in North India and Northeast Pakistan, the Government of Japan decided on November 7th to extend emergency grant aid of 100 thousand dollars to India and the Islamic Republic of Pakistan respectively (total of 200 thousand dollars) (approx. 23 million yen)) through the International Federation of Red Cross and Red Crescent Societies (IFRC) in order to assist those affected by the disaster in areas such as water, sanitation, shelters and food distribution.

2. Heavy rainfall due to intermittent monsoon caused large-scale flood damage in North India and Northeast Pakistan in early September. In total, 682 people have died and approximately 3.73 million people have been affected by the disaster in both regions. As many of those affected are still been forced to take shelter in refugee camps in a poor environment with midwinter approaching and there is an increasing risk of the spread of epidemic due to the deterioration of hygienic environment, immediate provision of assistance is necessary.

3. The Government of Japan decided to extend emergency grant aid to India and Pakistan as humanitarian assistance to those affected by the disaster, based on "the Special Strategic Global Partnership" with India and the traditionally friendly relationship with Pakistan, and in view of the fact that India and Pakistan extended generous assistance to Japan in the aftermath of the Great East Japan Earthquake. In addition to the emergency grand aid this time, Japan also intends to provide Pakistan with mid and long term assistance in the field of disaster reduction, which is highly needed.
[Japan International Cooperation Agency] [Friday, Oct 31, 2014]
First ABE Initiative Trainees Visit Japan from Africa
Japan welcomed its first batch of 156 African trainees under the ABE Initiative to Japan Sept. 7 and 15. The ABE Initiative is Japan's five-year plan to strengthen the ongoing dynamic growth of Africa through public-private partnerships.

Under the initiative announced at the Fifth Tokyo International Conference on African Development (TICAD V) held in 2013, JICA will receive 900 trainees to Japan in four batches by 2017. They will be trained through master's degree and internship programs.

The first group consisted of 156 trainees from the eight countries of Ethiopia, Kenya, Cote d'Ivoire, Sudan, Tanzania, South Africa, Mozambique and Rwanda. In the first group, 123 trainees were male and 33 were female.

This program is Japan's first overseas student acceptance project conducted jointly by industry, academia and government, and it offers promising young people expected to lead continuous economic growth in Africa the chance to acquire a master's degree at a Japanese graduate school and to complete an internship at a company. It aims to cultivate an understanding of Japanese technology and management and to build a human network between private companies and governments in each partner country while assisting with the cultivation of human resources for industry, which is a priority issue for Africa. About half the trainees work at government institutions of the partner countries, about 30 percent at private companies and about 20 percent at universities and other educational institutions. Also, 44 trainees were recommended by 23 Japanese companies.

In their common training in September, the trainees not only learned basic Japanese and about Japanese culture, but also about the status of the advance of Japanese companies into Africa. In addition, they visited trading companies, manufacturers, distributors, retailers and other companies, were told about the business of each company and had field trips to manufacturing floors of factories, distribution centers and other locations.

The trainees have now entered 48 Japanese universities and 70 master's courses of graduate schools and will study for approximately two years. Their main areas of study will include engineering, economics, management, agriculture, political science, public policy and information and communications technology. During summer vacations and for two weeks to six months after their master's programs are complete, they will complete internships at Japanese companies.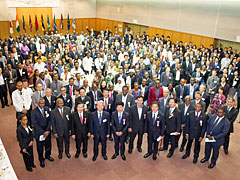 [Japan International Cooperation Agency] [Friday, Nov 7, 2014]
Tanzania Road Project Drastically Cuts Travel Time
Expansion of New Bagamoyo Road from two to four lanes will alleviate severe congestion
A ceremony Oct. 1 in Tanzania marked the re-opening of Mwenge-Tegeta section of the New Bagamoyo Road, which was widened through the now complete JICA grant aid project "Project for Widening of New Bagamoyo Road."

The project upgraded the 12.9 kilometer section of road from two to four lanes to alleviate severe traffic congestion. Storm water drainage was also improved to ensure smooth traffic flow even during the rainy season.

The road improvement is expected to increase in the average travel speed from 6.5 kilometers per hour in 2009 to 42, and to more than double traffic capacity from 825 to 1,740 vehicles per hour per lane. These improvements will likely shorten the time required to drive that section of the road from two hours to just 20 minutes.

Some difficulties had to be overcome to complete the project. Unexpectedly large amounts of unsuitable soil had to be replaced, and a large rainfall destroyed uncompleted structures, which then had to be rebuilt.

Additionally, to further mitigate severe traffic congestion in Dar es Salaam, Tanzania's largest and most prosperous metropolitan area, JICA will support the Gerezani road widening project and Tazara flyover project. Moreover, an outline survey for New Bagamoyo Road (Morocco-Mwenge section) is ongoing.

*The contents of this story is a summary of a press release published by the JICA Tanzania Office. For the original story, please see below.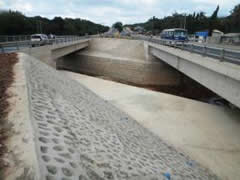 [Japan International Cooperation Agency] [Tuesday, Nov 4, 2014]
Signing of Grant Agreement with the Republic of Nicaragua
On September 22, the Japan International Cooperation Agency (JICA) signed a grant agreement (G/A) with the Government of the Republic of Nicaragua to provide grant aid of up to 1,521 million yen for assistance for the Project for Construction of Paso Real Bridge.

This project will replace the current temporary Paso Real Bridge on National Highway Number 21B, which is the trunk road connecting the capital of Managua and the Caribbean lowlands, improving the bridge capacity and safety, and in turn promoting the efficient transportation of goods and ensuring accessibility during a disaster.

In 1998, Hurricane Mitch caused widespread damage in Central America, including Nicaragua, washing out the bridge that is the target of this project along with its piers, which necessitated the construction of a temporary bridge during the emergency response. National Highway Number 21B, along which the bridge is located, plays an important role in ensuring the flow of goods from the central and Caribbean regions of the country. Of the bridges on major trunk roads that were damaged in Hurricane Mitch, however, the Paso Real Bridge is the only one that has not been permanently replaced, and because the temporary bridge is in danger of collapsing if not replaced, constructing a permanent bridge is a priority.

Working to improve the domestic social and environmental infrastructure, as well as alleviate poverty, the Government of Nicaragua has formulated a National Human Development Plan, and through a program to strengthen the trunk road transportation network, the Ministry of Transport and Infrastructure is improving the trunk road transportation network, focusing on the trunk road that passes through the Caribbean lowlands which have a large impoverished population, with the aim of improving poverty disparities.

The Project for Construction of Paso Real Bridge will alleviate vehicle weight restrictions, lifting the maximum from 14.0 to 25.0 tons. That is expected to increase the average travel speed from 16.7 to 25.0 kilometers per hour, promoting the efficient distribution of goods and ensuring travel is possible when a disaster strikes. In addition to this project, JICA carried out technical cooperation under the Project for the Study of National Transport Plan in the Republic of Nicaragua from 2012 to 2014, and has supported the formulation of a long-term national development plan for the transportation sector in Nicaragua. JICA will continue to contribute to the development of the transportation sector in Nicaragua, utilizing the success and knowledge that have been acquired through the Project for the Study of National Transport Plan in the Republic of Nicaragua and the Project for Construction of Paso Real Bridge.