Africa- The "Biggest frontier of the 21st century"
Africa is drawing expectations and attention from the international community as the "biggest frontier of the 21st century." Africa, which embraces a population of more than 1.2 billion in 54 diverse countries, has huge market potential and abundant natural resources. In recent years, since relatively stable political conditions have attracted foreign direct investment and expanded domestic consumption, the African economy has experienced significant change and dynamic growth.
Japan and Africa
Japan pursues two major approaches to guide its relations with African countries, namely "quality growth (inclusiveness, sustainability, and resilience)" and "human security (capacity building focusing on each individual in Africa)."
It is essential in addressing development issues in Africa to achieve balanced and stable economic growth, whose benefits are spread to every corner of the society in Africa including the population living at or below the poverty line. In order to support such "quality growth" in Africa, Japan will further promote quality infrastructure investment, making full use of sophisticated technologies that Japanese companies possess.
In addition, capacity building of each individual in Africa and encouraging them to proactively participate in community building and nation building strongly assists an autonomous growth of Africa. Japan, as the nation taking leads in the promotion of "human security," will implement various measures towards the empowerment of people in Africa. Japanese companies, which are in Africa or are to enter the market, will contribute to train the youth in Africa.
One of the most important and visible vehicles for strengthening Japan's relationship with Africa is the Tokyo International Conference on African Development (TICAD). TICAD, initiated by the government of Japan in 1993, is a multilateral and international forum that focuses on African development.
TICAD stands for the "Tokyo International Conference on African Development." It was launched in 1993 to promote high-level policy dialogue between African leaders and development partners. Meetings are led by Japan and co-organized by the United Nations, United Nations Development Programme (UNDP), the World Bank and the African Union Commission (AUC).
With the inception of TICAD, Japan took the lead in fostering international discussion on Africa's development. TICAD's innovative approaches include advocating African ownership and international partnership; promoting the participation of international organizations, donor countries, private sector and civil society; and creating follow-up and review mechanisms to ensure the progress of programmes and projects.
TICAD was originally held in Japan every five years until 2013. Since then it has been held every three years, alternately in Africa and Japan. Of particular note is the fact that TICAD VI in 2016 was held in Nairobi, Kenya, making it the first TICAD held on African continent. This is in response to Africa's growing ownership for its own development agenda. At TICAD VI, Prime Minister Shinzo Abe, accompanied by 77 Japanese leaders from business sector and universities, demonstrated hisstrong commitments including the support from Japan's public and private sectors toward the development of Africa.
In his keynote speech, Prime Minister Abe announced that for a period of three years from 2016 to 2018, Japan will invest for the future of Africa amounting to approx. USD 30 billion under public-private partnership, including human resource development to 10 million people ("Empowerment") by making use of the strength of Japan ("Quality"). The Prime Minister also announced that Japan will launch the "Japan-Africa Public and Private Economic Forum" as a forum to promote dialogue between public and private sector on economic matters in Africa from the point of businesses, where members of the Japanese Cabinet, together with top executives from Japan's major business associations and corporations, will visit Africa and attend once every three years.
TICAD7 was held in Yokohama, Japan from 28 to 30 August, 2019.
TICAD7 was held in Yokohama, Japan from 28 to 30 August, 2019
The history of TICAD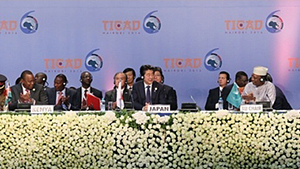 2019

2018

2017

2016

2013

2008

2007

2006

2004

2003

2001

1998

1993
Free and Open Indo-Pacific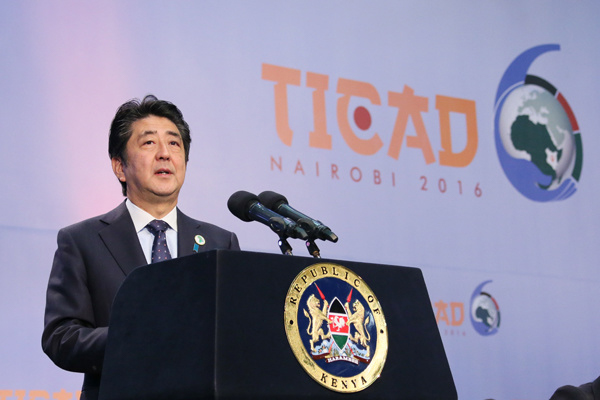 In his opening remarks at TICAD VI, Prime Minister Abe stressed that the key to the stability and prosperity of the international community is the dynamism created by bringing together the "two continents" ― Asia, which is accomplishing remarkable growth, and Africa, which is full of potentials ― and two oceans ― the free and open Pacific and the Indian Oceans.
Japan intends to promote peace and prosperity in the region as a whole by making the Indo-Pacific free and open as "international public goods", through ensuring rules-based international order including the rule of law, freedom of navigation and overflight, peaceful settlement of disputes, and promotion of free trade; in other words, by improving the "connectivity" of Asia, the Middle East and Africa.
In particular, Japan will further promote infrastructure development, trade and investment, and enhance business environment and human resource development, strengthening connectivity in ASEAN region, and will expand ASEAN's success to the Middle East, and Africa. In addition, Japan will provide nation-building support in the areas of development as well as politics and governance, in a way that respects the ownership of African countries, and not by forcing on or intervening in them.
An excerpt from the address by Prime Minister Shinzo Abe
at the Opening Session of TICAD VI
What will give stability and prosperity to the world is none other than the enormous liveliness brought forth through the union of two free and open oceans and two continents. Japan bears the responsibility of fostering the confluence of the Pacific and Indian Oceans and of Asia and Africa into a place that values freedom, the rule of law, and the market economy, free from force or coercion, and making it prosperous. Japan wants to work together with you in Africa in order to make the seas that connect the two continents into peaceful seas that are governed by the rule of law. That is what we wish to do with you. The winds that traverse the ocean turn our eyes to the future. The supply chain is already building something quite like an enormous bridge between Asia and Africa, providing industrial wisdom. The population in Asia living in democracies is more numerous than that of any other region on earth. Asia has enjoyed growth on the basis of the democracy, rule of law, and market economy that has taken root there. It is my wish that the self-confidence and sense of responsibility spawned there as a result come to envelop the entirety of Africa together with the gentle winds that blow here.
https://www.youtube.com/watch?v=Z8o_wTLsyqI
Weavers of society and frontrunners of community in Africa
https://www.youtube.com/watch?v=FsP8t7bpNqo&t=8s
A propos
L'Afrique, plus grand zone émergeante du 21e siècle
L'Afrique fait l'objet d'attentes et attire l'attention de la communauté internationale en tant que « plus grande zone émergeante du 21e siècle ». Avec une population de plus de 1,2 milliard d'habitants dans 54 différents pays, l'Afrique est dotée d'un gigantesque marché potentiel et dispose d'abondantes ressources naturelles. Ces dernières années, grâce à des conditions politiques relativement stables qui ont permis d'attirer les investissements étrangers directs et d'élargir la consommation domestique, l'économie africaine a expérimenté des changements significatifs ainsi qu'une croissance dynamique.
Le Japon et l'Afrique
Le Japon a adopté deux approches majeures pour guider ses relations avec les pays africains, à savoir une croissance de qualité (inclusion, durabilité et résilience) et la sécurité humaine (renforcement des capacités concentré sur chaque individu en Afrique).
Il est essentiel, afin de traiter les enjeux liés au développement en Afrique, de parvenir à une croissance économique stable et équilibrée, dont les bénéfices sont répartis sur l'ensemble de la société en Afrique, y compris vers la population vivant à la limite ou sous le seuil de la pauvreté. Afin de soutenir cette croissance de qualité en Afrique, le Japon continuera à promouvoir les investissements pour des infrastructures de qualité, en utilisant pleinement les technologies ultraperfectionnées dont disposent ses entreprises.
En outre, le renforcement des capacités de chaque individu en Afrique et l'encouragement à participer à la création d'une communauté et la création de la nation soutiendront solidement et proactivement la croissance autonome de l'Afrique. Le Japon, pays leader en matière de promotion de la sécurité humaine, mettra en oeuvre diverses mesures en vue de faire de l'Afrique un continent où chaque individu resplendit. Les entreprises japonaises présentes en Afrique, ou sur le point d'intégrer le marché, contribueront à former les jeunes en Afrique.
L'un des véhicules les plus importants et les plus visibles pour renforcer les relations du Japon avec l'Afrique est la Conférence internationale de Tokyo sur le développement de l'Afrique (TICAD). La TICAD, initiée par le gouvernement du Japon en 1993, est un forum multilatéral et international entièrement concentré sur le développement africain.
Qu'est-ce que la TICAD ?
La TICAD est l'acronyme de la « Conférence Internationale de Tokyo sur le développement de l'Afrique (Tokyo International Conference on African Development) ». Elle a été lancée en 1993 pour promouvoir un dialogue politique de haut niveau entre les dirigeants africains et les partenaires du développement. Les réunions sont organisées sous la houlette du Japon, avec la participation des Nations unies, du Programme des Nations Unies pour le développement (PNUD), de la Banque mondiale et de la Commission de l'Union africaine (CUA).
Avec la création de la TICAD, le Japon a pris l'initiative pour encourager des discussions internationales sur le développement africain. Les innovations de la TICAD incluent la préconisation de l'appropriation africaine et du partenariat international, la promotion de la participation des organisations internationales, des pays donateurs, du secteur privé et des organisations de la société civile ainsi que la création de mécanismes de suivi et de révision afin d'assurer l'avancement des programmes et des projets.
La TICAD avait lieu à l'origine tous les cinq ans au Japon jusqu'en 2013. A partir de là, le forum s'est tenu tous les trois ans, alternativement en Afrique et au Japon. A remarquer en particulier le fait que la TICAD VI a eu lieu à Nairobi, au Kenya, en 2016 pour la première fois sur le continent africain. Ceci en réponse à la montée du sentiment d'appropriation de l'Afrique pour son propre agenda de développement. A la TICAD VI, le Premier ministre Shinzo Abe, accompagné de 77 dirigeants japonais du secteur des affaires et des universités, a fait preuve de sa force des engagements, y compris l'assistance des secteurs public et privé du Japon vers le dévelopment de l'Afrique.
Dans son discours d'ouverture, le Premier ministre Abe a annoncé que pendant une période de trois ans, de 2016 à 2018, le Japon investirait dans le futur de l'Afrique d'un montant global d'environ 30 milliards USD dans un partenariat public-privé, dont le développement des ressources humaines pour 10 millions de personnes (autonomisation) en utilisant la force du Japon (qualité). Le Premier ministre a également annoncé que le Japon lancerait un « Forum économique public-privé du Japon et de l'Afrique » en tant que plateforme pour la promotion du dialogue entre les secteurs public et privé sur les sujets de l'Afrique d'un point de vue commercial, pour lequel des membres du Cabinet japonais, avec des hauts dirigeants des principales associations commerciales et corporations du Japon, se rendraient en Afrique pour y participer tous les trois ans.
La TICAD7 a eu lieu à Yokohama au Japon, du 28 au 30 août en 2019.
Indo-Pacifique libre et ouvert
Dans ses remarques d'ouverture de la TICAD VI, le Premier ministre Abe a souligné que la clé pour la stabilité et la prospérité de la communauté internationale était le dynamisme créé en mettant ensemble deux continents - l'Asie qui réalise une croissance remarquable et l'Afrique, débordante de potentiel - et deux mers : l'océan Pacifique et l'océan Indien libres et ouvertes.
Le Japon a l'intention de promouvoir la paix et la prospérité dans la région toute entière en rendant deux océans libre et ouvert comme des biens publiques internationales à travers l'ordre internationale basé sur les régles, par example, l'état de droit, la liberté de navigation et de survol, le règlement pacifique des différends, et la promotion du libre-échange; en d'autres termes, en améliorant la connectivité entre l'Asie, le Moyen Orient et l'Afrique.
Le Japon va, en particulier, promouvoir davantage le développement des infrastructures, du commerce et des investissements, améliorer l'environnement commercial ainsi que le développement des ressources humaines en renforçant la connectivité dans la région l'ANASE et aussi étendre le succes de l'ANASE au Moyen Orient et en Afrique. En outre, le Japon fournira son soutien pour l'édification de la nation dans le domaine du développement ainsi que dans celui de la politique et de la gouvernance, dans une approche respectant l'appropriation des pays africains et non en les forçant ou en intervenant chez eux.
Extrait du discours du Premier ministre Shinzo Abe lors de la séance d'ouverture de la TICAD VI
Pour apporter la stabilité et la prospérité au monde, il ne faut rien d'autre qu'un grand élan né de la conjonction entre deux océans et deux continents libres et ouverts. Le Japon veut assumer la responsabilité de développer et d'enrichir les relations entre l'océan Pacifique et l'océan Indien et entre l'Asie et l'Afrique, sans aucun recours à la force ni à la coercition, pour en faire un espace privilégiant la liberté, l'état de droit et l'économie de marché. Nous voulons travailler de concert avec vous tous en Afrique pour faire de ces mers qui relient les deux continents des espaces maritimes en paix, régis par des règles. C'est ce que nous souhaitons faire avec vous. Les vents qui parcourent les océans orientent nos regards vers l'avenir. Les chaînes d'approvisionnement ont déjà établi des ponts gigantesques entre l'Asie et l'Afrique, et les savoirs en matière de production sont en passe de se transmettre. L'Asie possède aujourd'hui une population vivant en démocratie plus nombreuse que tout autre endroit au monde. Elle dispose d'une croissance ancrée dans cette démocratie, cet état de droit et cette économie de marché qui y sont désormais enracinés. Je forme le voeu que cette confiance en soi et ce sentiment de responsabilité qui en résultent se propagent comme un vent léger qui envelopperait l'Afrique toute entière.