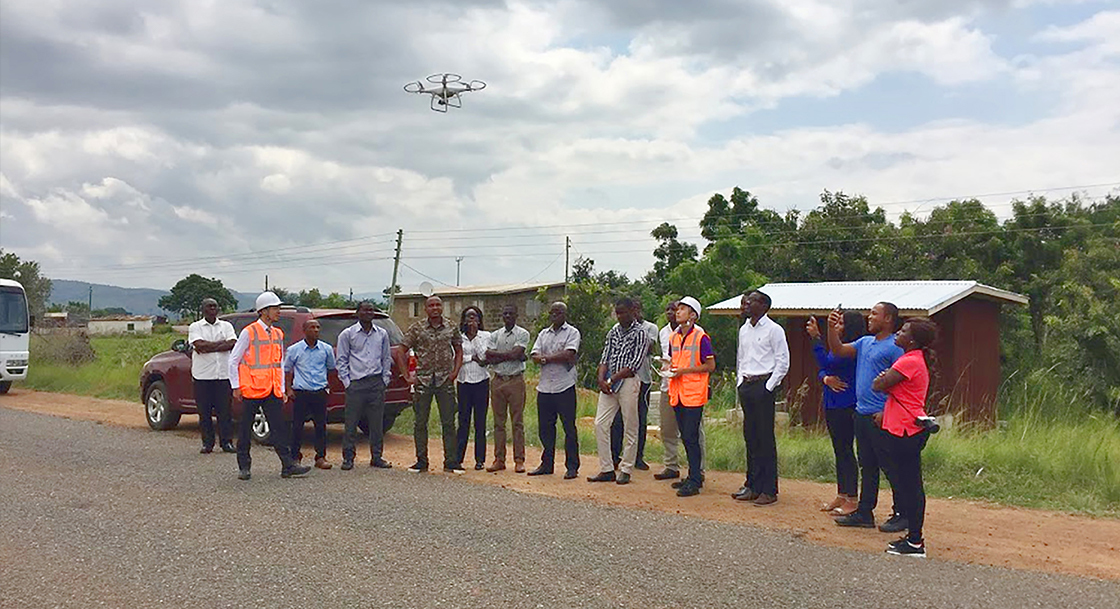 Testing a drone to introduce a new road inspection system in Ghana
Japan and its private sectors are known for their ability to take up a new technology and tailor it to fit local needs and conditions. Together, Africa and Japan can find solutions for immediate problems on social and economic fronts.
Africa's economic growth potential, according to various reports including those of the United Nations, is among the highest in the world due in part to its youthful population, which is forecasted to double from 1.25 billion in 2017 to 2.5 billion by 2050. Yet, it faces a number of challenges including a lack of reliable infrastructure and a shortage of qualified human resources.
There's good news, too: with its large young population and through the innovative application of Information and Communication Technologies (ICT), Africa can "leapfrog" some steps in building hard infrastructure and instead create an alternative development model. African countries can forge strong partnerships with other nations in making this dramatic shift, and Japan can be certainly one of them.
Mozambique: e-Bank in off-grid, off-line villages – an alternative money story?
When Nippon Biodiesel Fuel (NBF), a Japanese biofuel startup, introduced an electronic money system at a kiosk shop in a remote village 2,000 km north of the capital of Mozambique, customers started charging fairly large amounts of their farm income to their IC cards. The shop was originally installed to sell basic goods and services produced from its community-based jatropha electrification project.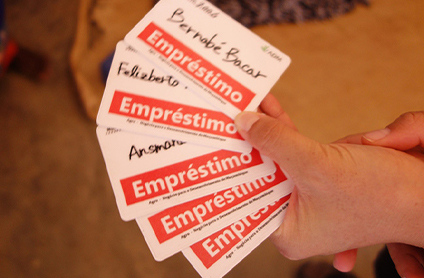 Loan cards issued to farmers with good credit histories
Makoto Goda of NBF realised that substantial needs existed for the safe storage of cash. Approximately 80% of the adult population, which lives mostly in rural areas, has no access to formal banking services, and charging IC cards was the safest way for them to store their money. Inspired by this unexpected use of IC cards, the idea of establishing a mobile bank was conceived. NBF partnered with MobiTel, a Vietnamese mobile phone company focusing its services on rural areas, and embarked on a journey to establish an alternative financial system.
A simple, tablet-based e-money system works well in an off-grid kiosk
A simple system using contactless IC cards and a Point of Sales system to keep transaction records installed in tablets can be implemented in areas with intermitted network connection without an electricity supply. Used for daily shopping, IC cards keep farmers' transaction data and provide credit information necessary for microfinance services.
NBF already introduced an electronic voucher system in Mozambique in collaboration with the UN's Food and Agriculture Organization in 2015, providing farmers with subsidies for the purchase of improved agricultural inputs. The e-voucher is considered an ideal financial inclusion tool for familiarising farmers with an e-money system and ICT technology.
Ghana: can drones help solve road problems?
Boasting economic growth of 8.5% in 2017, Ghana is one of the fastest growing countries in West Africa. With a population of nearly 30 million, the majority of which is under 25, it has a significant consumer market potential. Yet, its socioeconomic development faces a critical bottleneck: its shattered road network hampers the smooth transportation of goods and people. The Ghana Highway Authority (GHA) currently manages a manual road inspection system where inspectors physically check road defects and send hand-written reports to the central database. This method can not only be inefficient but also inaccurate and painfully time-consuming.
Seeking a clue to solve the problem, GHA considered the introduction of a new system using drones and has partnered with a Japanese ICT startup named CLUE, Inc. CLUE has developed tablet-based drone software and a cloud-based data management platform. With this system, drones can easily be controlled by tapping a tablet screen. Once road defects are identified, images taken by the drone are automatically saved in the cloud network. The data is then processed to give a bird's-eye view of the road system, topographic data and the location and nature of defects which require restoration and maintenance. Under its agreement with GHA, CLUE offers its software, provide on-the-job training to local engineers, and collaborates on road inspection and data management. Currently in a trial phase covering the Greater Accra Region, GHA seeks to introduce the system nationwide with the necessary modifications and localisation.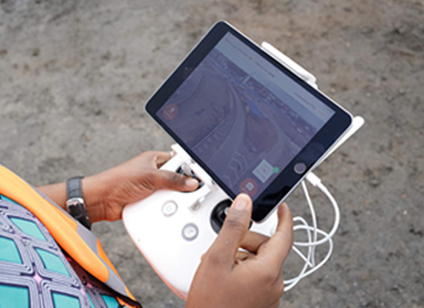 Drones can be easily operated by tapping a tablet screen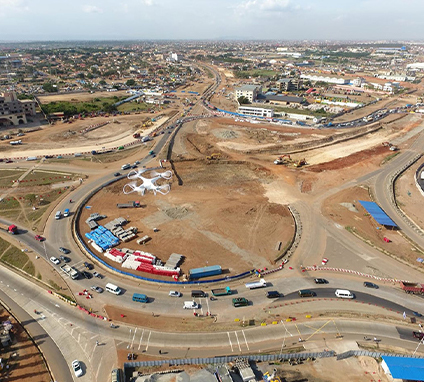 A drone taking aerial photos of a road construction site
Incubating African ICT entrepreneurs in Japan
Africa's young population is a driving force for future business growth. Nurturing them is mutually beneficial for both Africa and for major economies such as Japan looking for business partners in emerging markets.
The Kobe Institute of Computing-Graduate School of Information Technology (KIC), a college located in central Japan's Kobe City, is attracting increasing attention as a center of ICT education for overseas students, especially from Africa. Since 2012, KIC has admitted a substantial number of African engineers both for short-term training and into a full master's programme. 62% of its overseas students from 64 countries and regions are Africans. KIC's educational philosophy, "Social Innovation by ICT and Yourself," is in sync with the national strategy of Rwanda, which is becoming an ICT hub in Africa.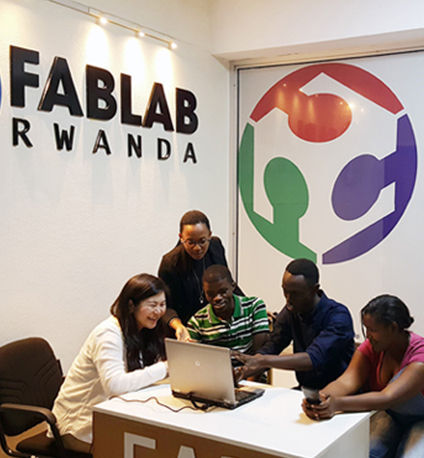 KIC graduates teach and inspire young people back in Kigali, Rwanda (©KIC)
KIC employs a technology-driven, problem-solving approach and facilitates inquisitive learning. Most of its graduates are now taking part in the development of the ICT sector in their home countries. Among them is Akaliza Keza Ntwari, a multi-media consultant and founding member of Girls in ICT Rwanda, a group of female ICT entrepreneurs. She founded several companies offering multimedia design and technology services in Kigali. After graduating from KIC in 2016, she was appointed as a member of the UN Secretary General's High-Level Panel on Digital Cooperation.
In 2017, with the support of the municipal governments of Kobe and Kigali, KIC launched a strategic vocational training course in Kigali. Using distance learning materials developed in Japan, sessions are facilitated by local trainers who themselves are KIC graduates. The cascading training model is expected to reach out to a larger number of local youths looking for hands-on training opportunities.
Necessity is the mother of invention, and local needs can often inspire the innovative application of new technology that can help address specific social and economic challenges. The more success stories are made in Africa through the innovation of ICT, the less dependent the nations become to the traditional style of economic growth and industrialisation. Africa can design a new social fabric and legislative frameworks for the world.
From August 28 to 30, 2019, the Seventh Tokyo International Conference on African Development (TICAD7) will be held in Yokohama, Japan. African leaders and development partners together with private sector representatives will discuss ways to foster public-private partnership and technical innovation to support an enabling environment for entrepreneurship in Africa and offer a matching venue for Japanese enterprises to meet African partners. More win-win stories will follow.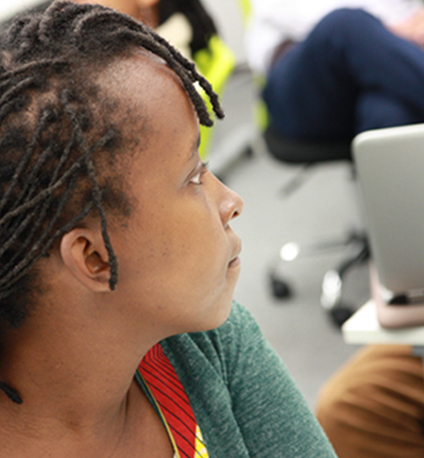 Ms. Ntwari studied with many African classmates at KIC in Japan (©KIC)