About
The "Power of Women" has the greatest potential in Japanese society, which is not yet fully mobilized. It is essential for a vibrant and growing society to create an environment where women can demonstrate their power to the fullest extent. That is why the facilitation of women's active role has been positioned as an important element of the "third arrow" of Abenomics in Japan's Revitalization Strategy. However, our vision for women's empowerment and gender equality does not stop there. Our initiatives extend to strengthen cooperation with the international community as well as assistance to developing countries with the belief that creating "a society in which women shine1" will bring vigor to the world.
1 Prime Minister Shinzo Abe's speech at the Sixty-Eighth Session of the General Assembly of the United Nations on 26 September, 2013
Domestic Progress
We believe that creating a society where "Women can shine" is not just a social issue, but an economic issue. The government aims to achieve diversity by expanding the role of women and creating an embracing environment in the workplace. But it requires participation of both women and men. It calls for businesses to change work styles built on traditional values.
Women's Labor Force Participation Rate by Age Group
Source: "Labour Force Survey (Detailed Tabulation)"
The Ministry of Internal Affairs and Communications
While the number of women joining the workforce increased by about 2.9 million from 2012 to 2018, and women in management positions in the private sector approaches 10%, continuing to lessen the burden of working parents and accelerate women's promotion remains a key objective. This, along with changing men's consciousness, encouraging the dynamic engagement of women and supporting female entrepreneurs is crucial in order to realize a society in which all women can take on challenges at any stage in life. The following highlights some of key policies in motion;
Secure additional child care capacity for approximately 320,000 children by the end of FY2020
Increase child care leave benefits from 50% to 67%, applied to the first six months of leave2
Further encourage recurrent education for women away on maternity leave
Provide female candidates with executive leadership training programs from the world's leading business scholars
Through collaboration with the Tokyo Stock Exchange, select and promote enterprises that encourage women's success in the workplace as "Nadeshiko Brands"
2 Law took effect in April 2014
Women's Labour Force Participation Rate 25-64 year-olds -OECD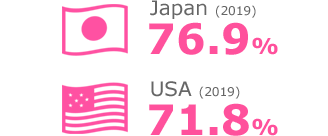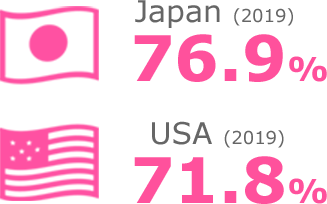 Souce: Labour Market Statistics:
Labor force statistics by sex and age - indicators
From 2012 to 2018, the number of women joining the workforce increased by about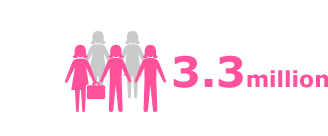 Souce: Ministry of Internal Affairs and
Communications: "Labor Force Survey"
Women in management positions in the private sector approaches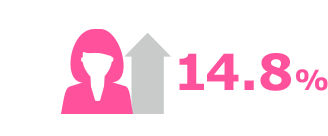 Souce: Ministry of Helth, Labour and
Welfare: "Basic Survey on Wage Structure"
International
Initiatives
At the United Nation's General Assembly, Prime Minister Abe emphasized Japan's intention to enhance cooperation with the international community and its assistance to developing countries for women's empowerment and gender-equality, as part of its effort to address global agenda.
In addition, Japan chaired the global leader's declaration at the G7 Ise-Shima Summit in 2016, to create a society where all women and girls are empowered, and to endorse to the G7 Guiding Principles for Building the Capacity of Women and Girls as common guiding principles for future actions.
Charged by these milestones, Japan has worked toward a "society in which all women shine" by strongly promoting assistance to developing countries through its close cooperation with civil societies including NGOs and business circles.
As part of the efforts for creating a "society where all women shine" which is one of the most important agenda of the Government, the Government of Japan has annually hosted WAW! (World Assembly for Women) since 2014. As Japan is serving as Presidency of G20 in 2019, it will be held concurrently with W20, one of the engagement groups of G20.
More information on Women's Issues, Ministry of Foreign Affairs