3
Smart Regulations & Laws
REGULATORY SANDBOX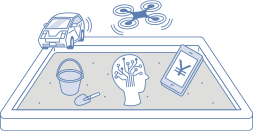 Cutting-edge new technologies and business ideas sometimes look immature, unrealistic or unreasonable. A fledging business idea or technology needs support and understanding.
The Government of Japan has introduced a sandbox approach that seeks to help new ideas develop in a live market. This enables businesses to brush up their ideas and technologies together with potential customers and stakeholders at market without being subject to existing regulations.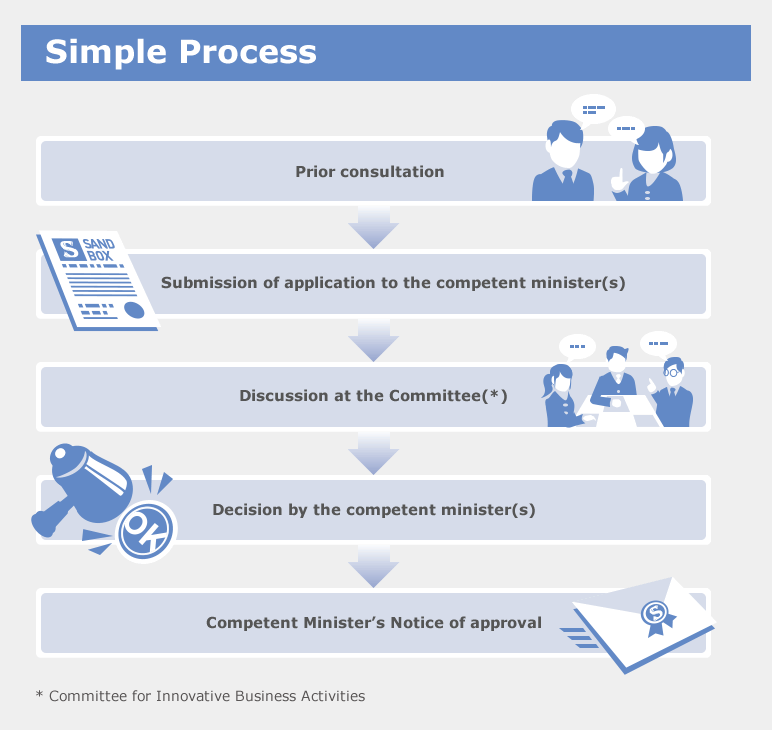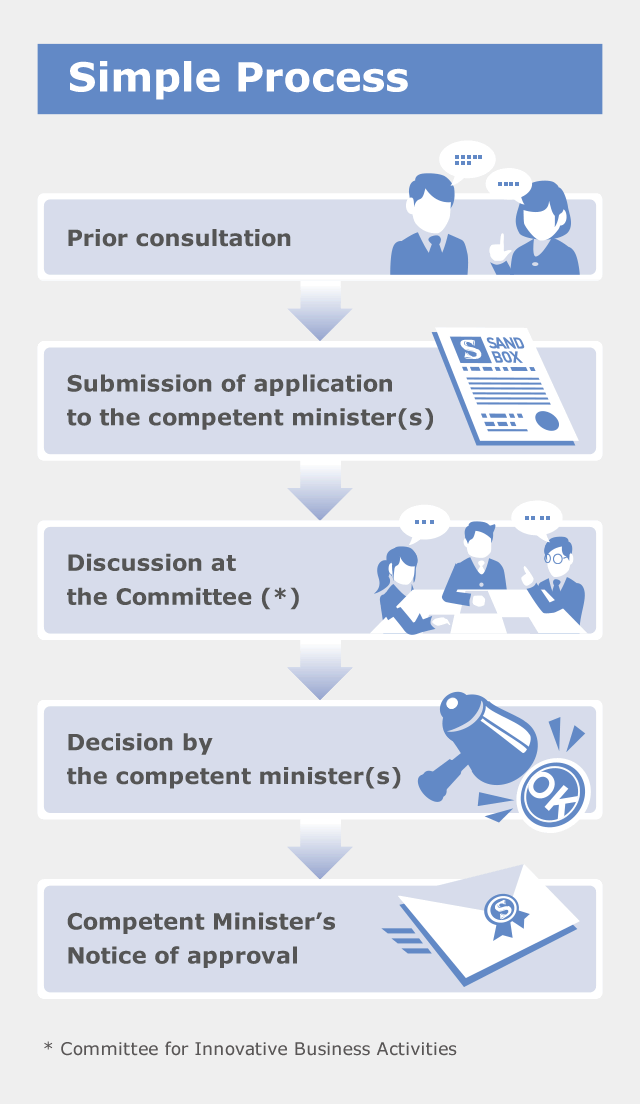 FAQ
Q
Is my industry covered by the Japanese Regulatory Sandbox?
Is it limited to fintech projects?
A
The Japanese Regulatory Sandbox is open to any industry, such as fintech, healthcare, and mobility. Whatever industry you are in, you can apply with your project.
Q
Is my company eligible for application and approval under the Japanese Regulatory Sandbox?
A
Yes. Japanese Regulatory Sandbox is open to anybody, such as Japanese companies, foreign companies, individuals, local municipalities, and prefectural governments.
Q
How long would be the term of my demonstration/testing project?
A
The basic principle is that the term needs to be appropriate, taking into account what and how you test your project. 3 to 6 months would be approvable in most cases, while some projects which have been approved have a 1-year testing term.
Q
Can I be subsidized if my project is approved under the Japanese Regulatory Sandbox?
A
The Regulatory Sandbox Framework does not have subsidy programs for approved projects.
Q
Who can I contact, if I'm interested in the Japanese Regulatory Sandbox?
A
You can contact
the Regulatory Sandbox Team
, at the Japan Economic Revitalization Bureau of the Cabinet Secretariat. Prior consultation with the team is available for you and you can get advices and hands-on guidance when you plan your project. You can contact
JETRO
as well.

Approved Projects

Panasonic Corporation
[IoT x Home appliances]
Demonstrates home appliances connected with high-speed PLC (power line communication), in order to realize an IoT society.

MICIN, Inc.
[Online healthcare]
Establishes a platform for patients who may have the flu to receive online advice from medical doctors by using a diagnostic kit and online video consultation with doctors.

Crypto Garage, Inc.
[Fintech x Blockchain]
Establishes a platform for registered crypto exchanges, which enables them to make simultaneous settlements between cryptocurrency and legal tender (JPY).

Caulis Inc. / The Kansai Electric Power Co., Inc.
[Fintech x Privacy protection]
Demonstrates a new framework to prevent the opening of fraudulent bank accounts via identity theft.

Envipro Holdings Inc. / SYN ECO Inc.
[IoT x Recycling]
This project verifies the cost reduction effects of collecting recyclable waste by containers equipped with IoT-sensing devices across municipalities in depopulated rural region.

SUSMED, Inc
[Clinical development x Blockchain]
Demonstrates a clinical data managing system which uses smartphone and blockchain technology, and verifies the reliability and accuracy of data for clinical development, even without visiting the source data.

KITAHARA Medical Strategies International /Medical Corporation KNI
["Digital Living Will" with the use of biometric identity authentication]
This project demonstrates the methodology for providing a patient's will, whereby the patient's intention is confirmed and recorded in advance for future possible surgery and emergency, and the patient's identity is biometrically verified in a quick and certain manner in case of emergency.

justInCase, Inc.
[P2P (peer-to-peer) insurance]
This project demonstrates insurance policies where policyholders share risks and help each other in the event of an adverse event (diagnosis of cancer). The insurance fee is calculated based on the total amount of insurance money divided by the number of policyholders. Such fees are postpaid.
Ministry of Land, Infrastructure, Transport and Tourism / 113 registered real estate brokers
[Digitalization x Real estate transactions]
Demonstrates new methods to digitally issue and send statutory documents related to real estate loan contracts. This project is the first case of a ministry in charge of regulation proactively using the Regulatory Sandbox for future policy design.

DaDa Inc.
[Space sharing business of camper buses]
Demonstrates a new sharing business model where DaDa takes a camper bus and parks it at a location a customer has selected. Customers can use the space and facility camper bus in whatever way they like, such as staying the night, having a party with friends, BBQing, opening yoga workshops, and so on.) But they may NOT drive it.

glafit inc. / Mayor of Wakayama City
[Safety demonstration of "switchable micro mobility vehicle"]
Portable electric micro bike named "glafit bike GFR-01" enables a user to switch between electric motor mode, pedaling only mode and hybrid mode on a bike. This project demonstrates the safety of riding the bike on the sidewalk and in car lanes, whereas current regulations do not allow e-bikes to be ridden on the sidewalk.

Luup, Inc.
[Safety demonstration of electric scooters]
Demonstrates marketability, technology and safety of sharing services for electric scooters as a means of convenient transportation for elderly people as well as for the younger generation inside a Yokohama National University campus. The demonstrated vehicles are 2-wheel and 4-wheel electric scooters.

mobby ride Inc.
[Safety demonstration of electric scooters]
Demonstrates sharing services for 2-wheel electric scooters at a Kyushu University campus in collaboration with Fukuoka City. The e-scooters are equipped with GPS and IoT-motors, which enable speed control depending on where each vehicle is running.
Contact
Regulatory Sandbox Team
Bureau for Japan's Economic Revitalization
Cabinet Secretariat
3
Smart
Regulations
& Laws