2
Smart Regulations & Laws
REGULATORY SANDBOX

NATIONAL STRATEGIC SPECIAL ZONES

HEALTHCARE

AGRICULTURE

ENERGY

RADIO FREQUENCY
Many say nothing ever changes in Japan. This section more than others demonstrates that this is simply not the case.
In recent years, changes have drilled down into the bedrock of some of the oldest and most traditional industries in Japan.
A revolution in efficiency and innovation is taking place in the energy, agriculture, medicine, and telecommunications industries. And this is only the beginning.
Japan is introducing more measures, such as a regulatory sandbox, to help stimulate new business, opening the door to smart ideas with smart regulation.

REGULATORY SANDBOX
A fledging business idea or technology needs support and understanding. In the case of government, we are introducing a sandbox approach that seeks to help new ideas develop by limiting administrative barriers and regulations on a case by case basis without being subject to existing regulations.
Early stage business models or technologies are proposed to the government and evaluated on their merit

Rules are relaxed to test these innovations within a certain contained "sandbox" (e.g. within an approved company or project). Businesses are able to conduct demonstration tests and pilot projects that are not envisaged under existing regulations inside of their "sandbox."

The testing environment allows businesses to conduct pilot projects quickly, building up data that can lead to change in regulations

If pilot demonstrations of new technologies/business models are successful, government considers extending the same deregulation to the rest of the country

A dedicated office for this is set up to ease with the application process

Law took effect in June 2018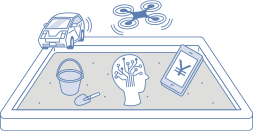 NATIONAL STRATEGIC SPECIAL ZONES
Selected regions have the privilege of carrying out advanced structural reform in the hope of turning successful test cases into touchstones for nationwide implementation.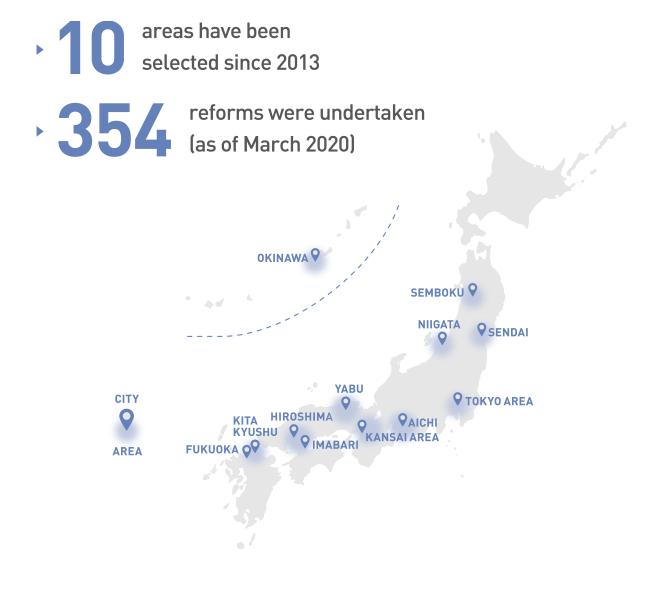 Achievements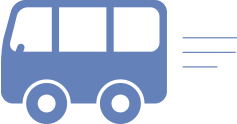 1st automated bus driving test

conducted on a public road in Semboku City (November 2016)

Accept non-Japanese workers

who have certain skills

to help turn agriculture into a growth industry

in Kyoto Pref., Niigata City, Okinawa Pref. and Aichi Pref.

Law took effect in April 2018

HEALTHCARE
Adopt flexible regulatory frameworks to make Japan a central hub for regenerative medicine and grow the market to 26 trillion yen by 2020
Create a faster R&D process in innovative medicine

Implement faster approval system for pharmaceuticals,medical devices and regenerative medicine

Create a global hub for regenerative medicine

Make National Strategic Special Zones into hubs for cardiac, neurologic and ophthalmic treatments

Promote market entry from overseas

Expand and popularize the use of online medical treatment

Achievements
World's fastest approval process in regenerative medicine

Rapid development in advanced heart failure treatments such as myoblast cell-sheet transplants
World's first successful iPS origin retinal cell transplant operation for age-related macular degeneration

AGRICULTURE
First major structural reform and deregulation in 60 years to turn agriculture into a growth industry
Reform the Agricultural Cooperative system to encourage entrepreneurship

Law took effect in 2016

Decrease production costs and promote structural reform in distribution and processing

Law took effect in August 2017

Increase exports to one trillion yen by 2019

Strengthen export promotion through the Japan Food Product Overseas Promotion Center (JFOODO)

Introduce similar approaches to modernize forestry and fishery industries

Achievements
Exports of agricultural, forestry, and fishery products

Source: Ministry of Finance "Trade Statistics of Japan"

ENERGY
Undertake comprehensive reform, for the first time in 60 years, to increase competitiveness for current energy sources while exploring new energy sources to create an eco-friendly and growing industry
Increase competitiveness in the electricity and gas market

Achievements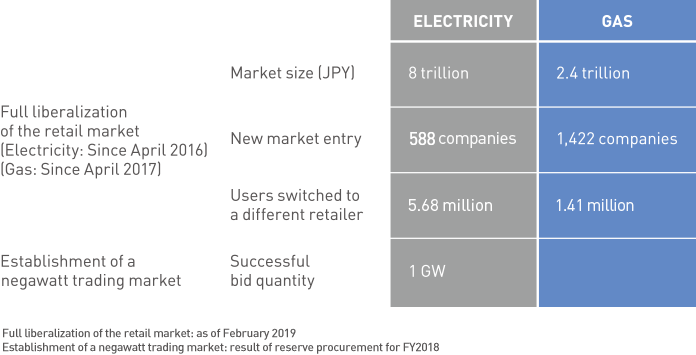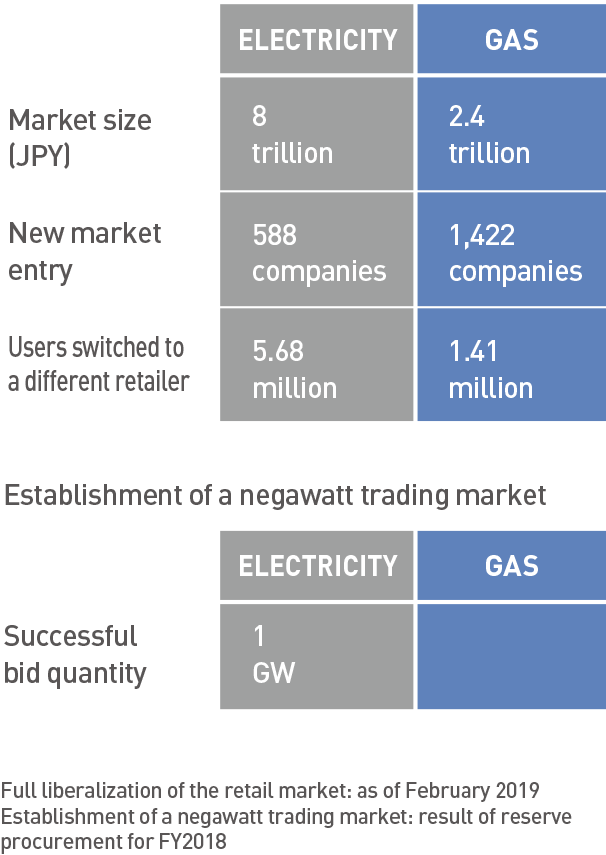 RADIO FREQUENCY
Efficient frequency utilization is key to accelerating innovation in next-generation fields such as IoT, digital media and mobile entertainment.
Provide more transparency to frequency assignment

Ensure unlicensed frequency bands for Internet of Things (IoT)

Consider auctions for radio spectrum distribution

in the future
Promote and support business models that go beyond traditional television or telecom operations