A:

Supply System Innovation

Reform our work-style

Providing grounds to drive
innovation and to realize Society 5.0
B:

Human Resources Development Revolution

Develop human resources to create an inclusive society

Embrace diversity
A: Supply System Innovation
Increasing productivity through work-style reform is the biggest challenge we need to tackle.
In addition, it is crucial to take full advantage of the innovations created through the fourth industrial revolution such as Internet of Things, big data, AI and robotics. Applying these innovations to all across various industries and in all aspects of daily life, will surely increase productivity and generate new demand. Such a society is referred to as "Society 5.01", and realization of this society will dramatically transform our productivity.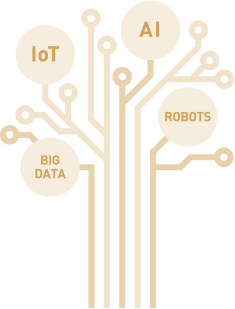 1

Society 5.0 is the fifth chapter after the four major stages of human development:
(1) hunter-gatherer, (2) agricultural, (3) industrial and (4) information.
Reform our work-style

REFORMS TO THE EMPLOYMENT SYSTEM
Legislative rules and guidelines of "equal pay for equal work":

Eliminate the irrational gaps in the working conditions between regular and non-regular workers in order to enable non-regular workers to be fairly evaluated and to work with higher motivation

Promote flexible work style:

Promote teleworking, side jobs and multiple jobs with a variety of policy measures, including the renewal of guidelines

Bills have been submitted to the current Diet session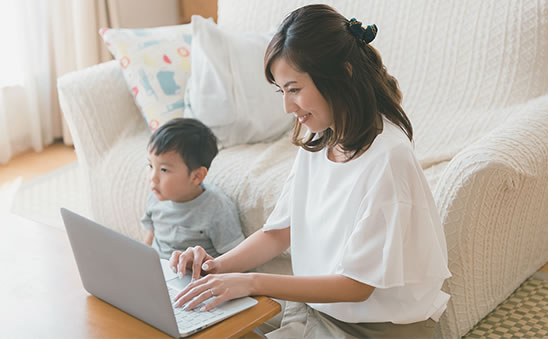 Providing grounds to drive innovation and to realize Society 5.0
REGULATORY SANDBOX

Launch a mechanism for carrying out trials for new businesses for a certain period of time, without conforming to existing regulations

Law passed the Diet in May 2018

OPEN DATA

Open up government data to promote innovative products and services, particularly in eight selected areas that include healthcare, agriculture and mobility

ECOSYSTEM FOR STARTUPS

Supply the proving grounds for people brimming with a venture spirit by creating an agile environment where startups can continuously create and drive innovation

INDUSTRY ACADEMIA COLLABORATION

Set up an operating system in universities to accept private investments, and set up an incentive system to encourage universities to collaborate with the industry

HEALTHCARE
Integrate and store personal medical information

using big data by 2020 to provide customized medical care
(e.g.) medical checkup records, treatment records, nursing care records

Enhance remote medical care

services and face-to-face medical examinations (effective care to be evaluated based on a FY2018 revision of medical service fees)

Use AI and robots at long term care facilities

to maintain/improve users' quality of life and reduce care givers' burden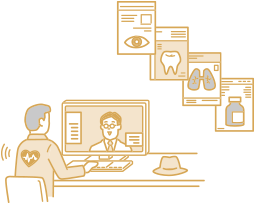 MOBILITY
Starting with mountainous regions,

introduce drone delivery services

in urban regions by the 2020s

Introduce driverless transportation services

with an aim of commercialization by 2020

*Road tests ongoing in

the capital region on urban roads and highways
13 mountainious regions sequentially across the country

Autonomous truck platoons

for mass transportation to address the shortage of truck drivers (road tests on ShinTomei Highway by 2020 and commercialization by 2022)
(e.g.) single driver cargo truck in a convoy using unmanned-following-vehicle system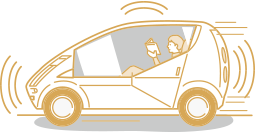 FinTech
Drive FinTech innovation by facilitating experimentation

with blockchain technology

*Technology that allows faster and deeper online transactions while assuring the security by recording transaction histories in chronological order within a chain of encrypted, interlocking blocks. After creation, falsification of any part of the chain is extremely difficult, creating a trusted and secure record of information.

Install open application programming interface (API) systems

in more than 80 banks by 2020 to further drive innovation

*An API is a software interface by which an application and other operations provide separate applications with a common function. In software development, a function provided by an API does not require further programming, which makes the process more efficient.

Achieve a 40% cashless payment

rate by 2027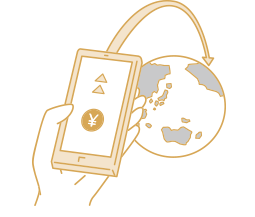 AND MORE
Utilize technologies developed during the fourth industrial revolution and data accumulated through those technologies

to overcome labor shortages in areas such as distribution, construction, agriculture, manufacturing and nursing

Further promote i-construction,

an approach to construction in which every aspect—from research to design, and inspection to maintenance—will be connected through information and communication technology (ICT) by 2019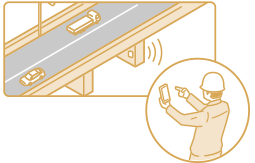 B: Human Resources Development Revolution
The Council for Designing 100-Year Life Society, launched in September 2017, will compile a basic design for Human Resource Development Revolution by next summer.
The Council will work to secure the opportunity for young people to receive higher education, to enhance the opportunity of recurrent education, to reform universities, to reassess recruiting systems to diversify the workforce, and to create social security for people across all generations.
Develop human resources to create an inclusive society

HUMAN RESOURCES DEVELOPMENT
Make higher education effectively free for children from low-income households:

Introduce new benefit scholarship programs and expand tuition reduction and waiver measures

Accelerate the provision of early childhood education for free:

Work to provide free pre-school education and childcare for all children between age three and five and also for all children in low-income households from birth to age two

Enhance recurrent education and support reemployment:

Support relearning by individuals, such as by enabling women who once took child rearing leave, to receive recurrent education for skill improvement and re-employment

Advance reform of universities and other higher education institutions curriculum in order to meet the demand for practical education:

Address the diverse needs of working professionals and provide education required, such as for IT personnel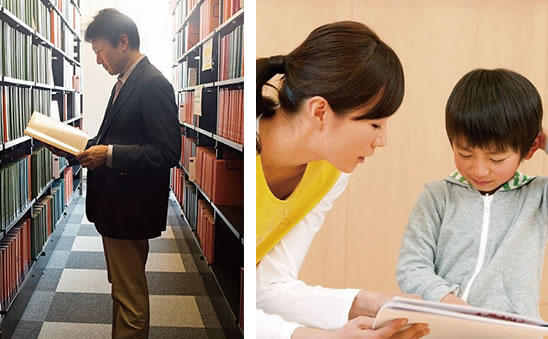 SOCIAL SYSTEM
Eliminate the wait to enter childcare facilities:

Expand the capacity of childcare facilities by 320,000 children by the end of FY2020

Secure the caregiving personnel needed to reduce the number of people who leave employment because of caregiving to zero:

Improve employment conditions so as to eliminate the gap in wages with other industries

Diversify the hiring process:

Change the traditional hiring process of simultaneous recruiting of new graduates to a more flexible process to capture greater talent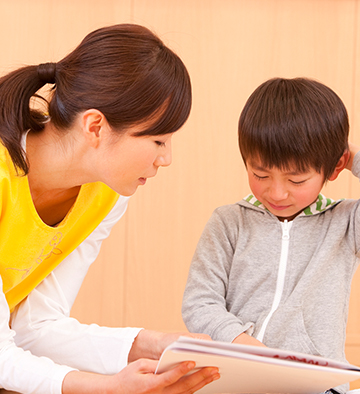 Embrace diversity

WOMEN
Increase childcare leave benefits from 50% to 67%, applied to the first six months of leave
Further encourage recurrent education for women away on maternity leave
Provide female candidates with executive leadership training programs from the world's leading business scholars
Through collaboration with the Tokyo Stock Exchange, select and promote enterprises that encourage women's success in the workplace as "Nadeshiko Brands"

Achievements
From 2012 to 2017, the number of women joining the workforce increased by about

2.0million

Source: Ministry of Internal Affairs and Communications "Labour Force Survey"

Women in management positions in the private sector approaches

10%

Source: Ministry of Health, Labour and Welfare "Basic Survey on Wage Structure"

SENIORS
Provide a choice to extend retirement age for those who want to work, as well as support companies that extend the limit
Provide support in matching job openings and applications

Achievements
From 2012 to 2017, employment rates of people over the age 65 increased by 3.5%

Source: Ministry of Internal Affairs and Communications "Labour Force Survey"

71%

of seniors report that they would like to continue to work past retirement age

Source: Cabinet Office "Research on daily life of seniors".2014

EXPATRIATES
Provide incentives and grants for expatriate entrepreneurship in National Strategic Special Zones1
Expand job categories for statuses of residence (e.g.) Nursing care
Increase expatriate housekeeping support workers in National Strategic Special Zones2

Achievements
The number of workers from abroad reached

Source: Ministry of Health, Labour and Welfare "Report on the Employment Situations of Foreigners"
1

Tokyo, Niigata City, Fukuoka City, Sendai City, Aichi Pref., Hiroshima Pref., Imabari City

2

Tokyo, Kanagawa, Osaka and Hyogo