3
Attractive
International
Opportunities
FREE TRADE

EXPORT OF QUALITY INFRASTRUCTURE

TOURISM

INTEGRATED RESORT

Come and Visit Japan!
By signing a trade deal with the EU this July, Japan did not simply enter into a business deal. It was the biggest evidence to date of Japan's commitment to lead and be a champion of free trade, to encourage global cooperation both economically and politically, and to seek ways in which to support business, innovation, and growth.
Abenomics has always aimed to create prosperity in Japan and share that globally as part of a virtuous business cycle based on free, fair, rule-based markets. While opening its markets to investors from overseas, Japan is also exporting infrastructure and providing financial aid so as to affect a win-win global relationship.

FREE TRADE
Comprehensive and Progressive Agreement for Trans-Pacific Partnership [TPP11] entered into force in December 2018

Japan-EU Economic Partnership Agreement [Japan-EU EPA] entered into force in February 2019

One of the world's largest bilateral free trade deals ever and one that will eliminate nearly all customs duties on products traded between the two sides
The EPA will be a model for 21st century economic order, based on free and fair rules

Promote negotiations of other EPAs such as RCEP and Japan-China-Korea FTA

Achievements
FTA coverage ratio has reached 50%

- Trade value base, in force or signed
Source: Calculated by Ministry of Economy, Trade and Industry based on Ministry of Finance "Trade Statistics of Japan" (January 2017–December 2017, Fixed numbers)

EXPORT OF QUALITY INFRASTRUCTURE
For more information : https://www.japan.go.jp/infrastructure
Provide financing to infrastructure projects across the world

of approximately USD 200 billion by 2021

Strengthen competitiveness through public-private cooperation

Expand infrastructure investment, taking advantage of Japanese technologies and expertise

Achievements
Decided with Prime Minister Modi of India to develop the Mumbai-Ahmedabad High Speed Rail Corridor (MAHSR) based on the Japanese Shinkansen system, aiming to start operation in 2023

Infrastructure project orders received

Source: Cabinet Office "37th Meeting of the Management Council for Infrastructure Strategy"
*Approximate figure

TOURISM
Form 100 world-class Destination Marketing Organizations and train tourism management specialists by 2020
Promote branding of national parks, usage of cultural properties and create globally attractive travel routes
Improve the tourist experience with additional free Wi-Fi spots and 3,000 ATMs equipped for international transactions
Promote private lodging services under certified procedures

Achievements
Inbound tourists in 2018
Source: Japan National Tourism Organization, Japan Tourism Agency "International Visitor Survey"

INTEGRATED RESORT
Pave the way for the creation of Integrated Resorts [IR], facilities that "integrate" hotels, dining, entertainment, business conference space, and casino options, in order to broaden Japan's hospitality and tourism offering
Create

world's first comprehensive legal framework

for the IR industry
Outline vision to build facilities that

promote diverse attractions all across Japan

Invite private sector to operate IR facilities
Closely regulate casino activities through additional legal measures that squarely address gambling addiction

Law passed in July 2018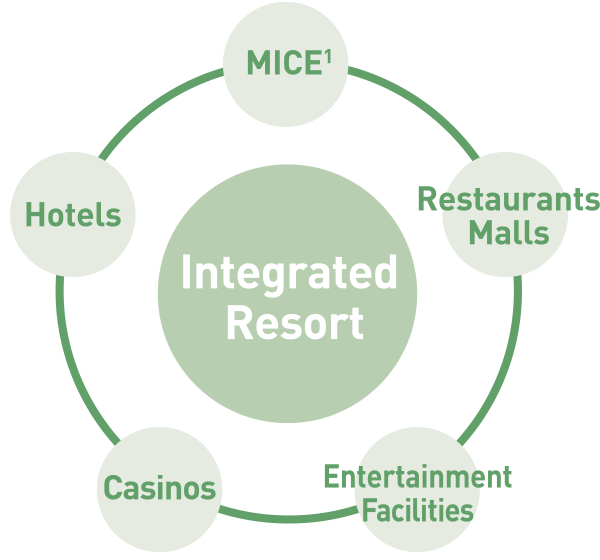 1

MICE: Meeting, Incentive Travel, Convention, and Exhibition
Come and Visit Japan!
SHORTER TRAVEL TIME TO DOWNTOWN TOKYO
In addition to Narita International Airport, Tokyo is served by the more centrally located Haneda International Airport. Providing domestic connections to 48 cities, Haneda is now offering a wider choice of international routes.

ACCOMMODATION FOR LESS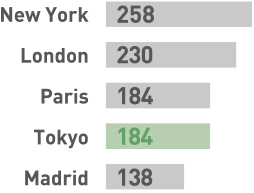 2016 USD yearly average currency exchange rate: 1 GBP = 1.28 USD, 1 EUR = 1.13 USD, 1 JPY = 0.0089 USD
The Hotels.com Hotel Price Index (2016) shows that Tokyo has a lower average price point compared to other iconic cities
SHOP FOR LESS
Japan is not that expensive anymore. In fact, The Economist's Big Mac Index—a broad indicator of price points—ranks Japan 36th out of 57 countries. (January 2018) (USD)

TOP DESTINATION FOR FINE DINING
According to The Michelin Guide (2017), Tokyo has the most Michelin-starred restaurants globally.