1
Innovation
in Societal
Structures
FINTECH / FINANCE

MOBILITY

SMART CITY

HEALTHCARE

AND MORE

OPEN DATA
Changing societal structures is a chance to unlock new markets. An aging society, for example, stimulates demand for care & wellness products and services, which in turn pushes innovation in mobility, adminstration and infrastructure, to name but a few.
A smaller workforce can encourage greater efficiency, as well as more demand for higher skillsets to utilize the latest technological advances, as per the Society 5.0 vision. Many believe economies need population growth to expand. However, history shows us that growth happens when the skills of society reflect its economic opportunities.

FINTECH / FINANCE
Improve productivity in finance and commercial transaction area by utilizing new technologies to provide more stable and efficient financial services.
Plan to adopt cross sectoral financial regulations to allow seamless payments and to create a new fund transfer category

between banks and payment services companies
Aim to prepare during 2019


a fundamental approach to cross sectoral financial services legal framework to improve quality of financial services

Install open API (Application Programming Interface) systems

in more than 80 banks by 2020 to further drive innovation

*API is a software interface within which an application and other operations provide separate applications with a common function. In software development, a function provided by an API does not require further programming, which makes the process more efficient.

Achieve a 40% cashless payment rate

by 2025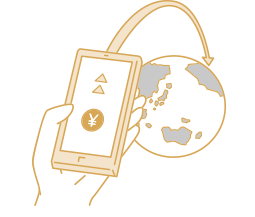 MOBILITY
Starting with mountainous regions,

introduce drone delivery services

to include urban regions by the 2020s

Introduce driverless transportation services

with the aim of making them commercial by 2020

*Road tests ongoing in the capital and in mountains

Autonomous truck platoons

for mass transportation to address the shortage of truck drivers (commercialization by 2022)
City planning will include new mobility options so that model cities include

autonomous driving, shopping support and MaaS (Mobility as a Service)

from the start

Transport data dissemination via Apps

will be introduced from this fiscal year to ease congestion, especially during peak times and major events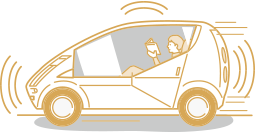 SMART CITY
National and city governments to join forces to

encourage municipalities and local businesses to embark on smart-city model projects

that incorporate the latest technologies and a data-driven approach in their area

Integrate town-planning with new mobility services and private data capacities

to develop the "Compact · Plus · Network," ensuring that urban areas have efficient and clean transport that meets aging population needs

Collaborate with international partners

such as at ASEAN Smart Cities Network, Super City Smart City Forum and Asia Smart City Conference, to discuss new architectures for sustainable urban development
NEXT-GENERATION INFRASTRUCTURE
Use robotics and sensors to repair and improve productivity of infrastructure, and cut costs

Introduce data-driven operations to improve precision of construction, renewal and maintenance processes
PPP & PFI
Bring in private business to boost public utilities

as part of transformation into Smart City
Consider ways to

leverage private initiative at utilities to generate long-term revenue and better cost-performance

HEALTHCARE
Integrate and store PHR (Personal Health Records) by 2020 using big data to provide customized medical care;

this includes medical checkup, treatment, and nursing care records

Enhance remote medical care services

and combine them with face-to-face examinations (enabled in part due to a FY2018 revision of medical service fees)

Use AI and robots at long-term care facilities

to maintain/improve users' quality of life and reduce burden on caregivers

Introduce the world's fastest approval process for regenerative medicine

and grow Japan's market for the same to 26 trillion yen by 2020
Nominate specific geographies as hubs for cardiac, neurologic and ophthalmic treatment

Create a faster R&D process to motivate innovation in pharmaceuticals and medical devices

Achievements
Rapid development in advanced heart failure treatments such as myoblast cell-sheet transplants
World's first successful iPS origin retinal cell transplant operation for age-related macular degeneration

AND MORE
DIGITAL GOVERNMENT
Change administration by making all services and procedures digital

Eliminate attachments required in various procedures, and modernize personal identification procedures
SMART AGRICULTURE
Agriculture of tomorrow means utilizing sensors, big data analysis and AI to help farmers move to larger-scale, less labor-intensive production while integrating them into the modern farm-gate-to-store supply chain at minimal cost. The approach will be expanded to forestry and fishery industries
NATIONWIDE 5G, LOCAL 5G
Start commercial 5G (5th Generation Mobile Communications System) services across the country in 2020 to cope with increasing data volumes, while ensuring cyber security

Government to provide assistance in deployment of base stations and optical fiber

Promote and support business models that go beyond traditional services in various fields, especially by taking advantage of local 5G systems
OPEN DATA
Open up government data to promote innovative products and services,

particularly in eight selected areas that include healthcare, agriculture, energy and mobility

Provide open access to geospatial information to promote new business ideas

(the G-Spatial Society initiative)