About ABENOMICS
In early 2013, after two decades of economic stagnation, Prime Minister Shinzo Abe unveiled a comprehensive economic policy package to sustainably revive the Japanese economy while maintaining fiscal discipline. This program became known as Abenomics. The centerpiece of Abenomics has been the three "policy arrows" targeted at aggressive monetary policy, flexible fiscal policy and growth strategy including structural reform. And now it is gaining speed. This page offers the latest on the reforms being implemented to reach a GDP of 600 trillion yen, including work style reform to raise productivity and increase the workforce in the midst of demographic changes.
Sep. 21, 2016
Three things, ladies and gentlemen. Continuity, that is point number 1. More openness, number 2. And changes in our work style, point number 3. Continuity, openness, work style changes. … Read more>
Progress
The centerpiece of Abenomics has been the three policy arrows targeted at aggressive monetary policy, flexible fiscal policy and growth strategy including structural reform. Since then, Abenomics has achieved remarkable progress.

Economic indicators*1

Nominal GDP and growth rate*4
CORPORATE PERFORMANCE
Corporate ordinary profits*5
JOB MARKET
Number of employed persons*7
Jobs to applicants ratio and unemployment rate*8
FISCAL CONDITION
Dependency ratio on Japanese government bonds*9
Average exchange rate for May 2017: USD = JPY 112
The Japanese fiscal year starts in April and concludes in March of the following year.
Pre-Abenomics vs. Post-Abenomics; FY2012 vs. FY2016 = nominal GDP, corporate ordinary profits, capital investment, amount of JGB issued, level of dependency on JGB; FY2012 vs. FY2017E = tax revenue; Jan 2012 vs. May 2017 = Nikkei stock average; 2012 avg. vs. 2016 avg. = number of employed persons; Jan 2012 vs. April 2017 = jobs to applicants ratio, unemployment rate
Source: Nikkei Inc "Nikkei Indexes," monthly average, closing price
Japanese Government Bonds
Source: Cabinet Office "National Accounts"; "Fiscal 2017 Economic Outlook and Basic Stance for Economic and Fiscal Management"
Source: Ministry of Finance "Financial Statements Statistics of Corporations by Industry," all industries, all (firm) sizes, seasonally adjusted figures
Source: Cabinet Office, "National Accounts;" private non-residential investment
Source: Ministry of International Affairs and Communications "Labour Force Survey," seasonally adjusted figures
Source: Ministry of Health, Labour and Welfare "Statistics on Employment Referrals for General Workers," seasonally adjusted figures; Ministry of Internal Affairs and Communications "Labour force survey"
Source: Ministry of Finance "Public Finance Statistics Book"
Drilling into bedrock regulations
The third arrow, structural reform, is the core policy within Abenomics.
We have cut into bedrock regulations in areas such as healthcare, energy and agriculture that were considered impossible to tap in to. These series of structural reforms have led to countless positive actions, such as new market entries, increased investment, increased productivity and the introduction of various new services. Our battle for reform is far from over. For instance, we have passed eight agricultural reform laws this Diet session— and we will continue to spur on these initiatives.
HEALTHCARE
Adapt flexible regulatory frameworks to make Japan the central hub for regenerative medicine and grow the market to 26 trillion yen by 2020
Create a faster R&D process in regenerative medicine
Optimize the adaptive licensing approval system so as to bring regenerative medicines to market more quickly
Law took effect in 2014
»

Rapid development in Advanced Heart Failure treatments, such as myoblast cell-sheet transplantation therapy and cardiomyocyte sheet transplantation therapy

»

World's rst successful iPS origin retinal cell transplant operation for age-related macular degeneration
Facilitate the process of aggregating personal medical records and analyze them anonymously to advance medical research
Law enacted during the current Diet session
Create a global hub for regenerative medicine
Make National Strategic Special Zones into hubs for cardiac, neurologic and ophthalmic treatments
Promote market entries from overseas

»

The United States (Sunbio), Switzerland (Ronza) and Israel (Pluristem)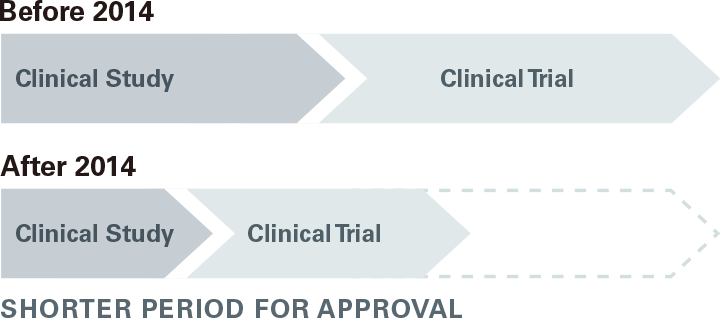 AGRICULTURE
First major structural reform and deregulation in 60 years to turn agriculture into a growth industry by increasing competitiveness
Reform the Agricultural Cooperative System
Regulationsreviewed to encourage entrepreneurialism
Act took effect in 2016
»

In 2015, 23,000 people under the age of 49 have newly joined the agriculture industry

»

New business creation and market entry to provide an agricultural solution business
Decrease production costs and promote structural reform in distribution / processing business
Act to take effect in August 2017
Encourage restructuring in the production material and distribution / processing business
Act to take effect in August 2017
ZEN-NOH*10 is carrying out reforms to maximize the merits of group-purchasing
Increase exports
Aimingtoachieveonetrillion yen by 2019
Strengthen export promotion through the Japan Food Product Overseas Promotion Center (JFOODO)
»

Agricultural,forestry, shery products and foods exports reached 750.2 billion yen in 2016, breaking the record for the fourth consecutive year*11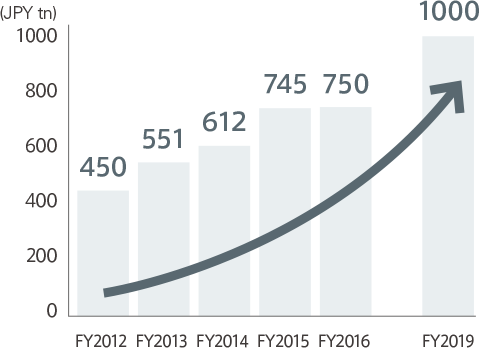 ZEN-NOH = National Federation of Agricultural Corporate Associations
Source: Ministry of Finance, "Trade statistics of Japan"
ENERGY
Undertake a comprehensive reform, for the first time in 60 years, to increase competitiveness for current energy sources while exploring new energy sources to create an eco-friendly and growing industry
Increase competitiveness in the electricity and gas market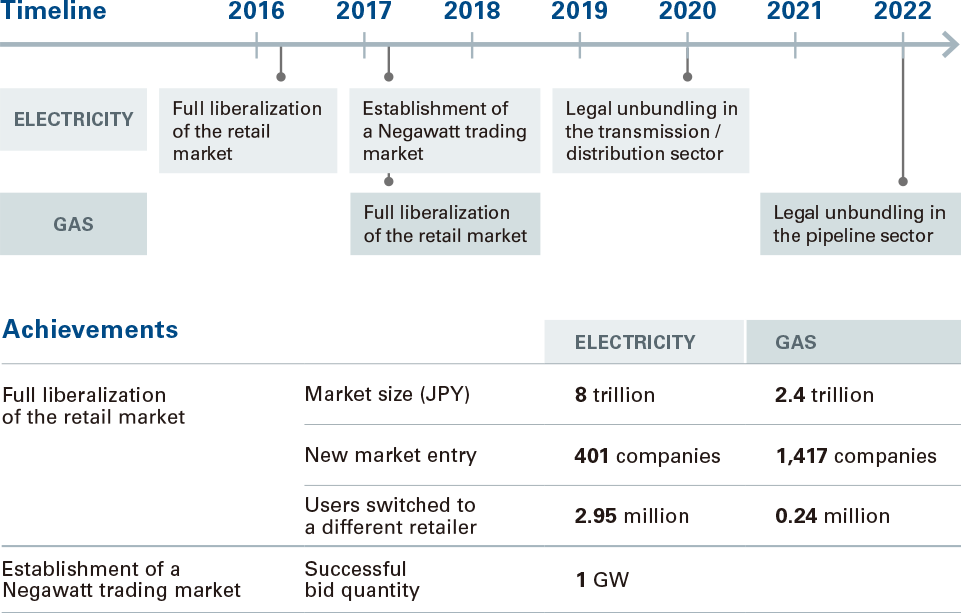 Realize a Hydrogen Society
Commercial fuel cell vehicles have been on the market since December 2014
90 hydrogen refueling stations— more than any other country— were deployed since May 2017
Currently, the government is supporting R&D for the production and transportation of hydrogen

»

Kobe City to become the rst city in the world to supply electricity and heat through hydrogen power generation
Pilot Initiatives in National Strategic Special Zones
Proactively pilot structural reform initiatives within the selected regions of National Strategic Special Zones to turn successful cases into touchstones for nationwide implementation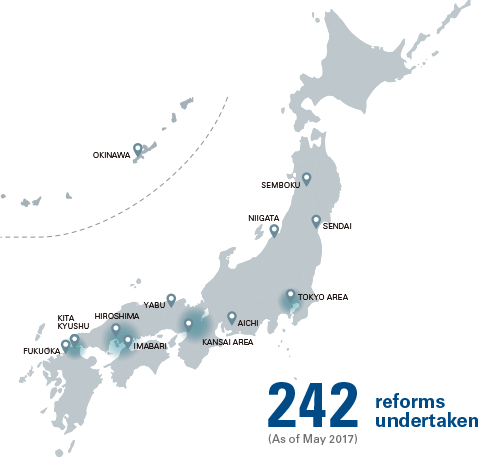 Example in TOKYO AREA:
BUSINESS ESTABLISHMENT
Consolidate scattered registration outlets for different documents into one convenient outlet
Tokyo One-Stop Business Establishment Center
(Established in April 2015)
Centralizes all application services in Tokyo
Increased capabilities regarding the handling of the Certification of Eligibility for visa applications
Example in SEMBOKU (AKITA PREF.):
TECHNOLOGY
1st automated bus driving test to be conducted on a public road
(November 2016)
Example in TOKYO and KANSAI AREAS:
Expatriate opportunities
Enable certified private companies to hire expatriates in the field of housekeeping services in the major cities of Tokyo, Kanagawa and Osaka
15companies certified to accept expatriate housekeepers (nannies) as of May 2017
How Abenomics 2.0 works
In order to achieve sustainable growth and reach a nominal GDP of 600 trillion yen, we will accelerate our efforts towards comprehensive reforms in three vital areas: boosting productivity, driving innovation and trade, and energizing corporate activities. Through these efforts, we will strive to create a positive environment for the private sector to boost their creativity and speed in economic activities, and to keep the virtuous economic cycle going.
Boost productivity to increase income and encourage further consumption by:
Reforming the traditional work style we have been used to
Investing in human resource development
Embracing diversity in the labor force by providing various working opportunities for women, seniors and expatriates
Drive innovation and trade to create new demand and increase capital investment by:
Applying the innovations created through the Fourth Industrial Revolution across all industries and all aspects of daily life (realizing Society 5.0)
Promoting free trade and quality infrastructure around the globe
TOPIC
GROWTH STRATEGY 2017
Abenomics has created a solid and virtuous economic cycle. Nevertheless, the economic activities of the private sector, such as investment and consumption, are not strong enough yet.

This is because the private sector has been struggling to increase productivity, while also struggling to generate new demand. This secular stagnation is a social challenge shared by most developed countries. Japan, in addition, faces rapid demographic change.

However, we see this challenge as an opportunity to become a pioneer in establishing a social model for other countries that will inevitably experience similar social situations in the coming years.

A plan to establish this new social model—the Growth Strategy 2017—was approved by the Cabinet on June 9, 2017, and realizing Society 5.0 (page 9) will play a pivotal part in this.
Last update
{"partsId":"100","parts_name":"Abenomics_last_update","parts_path":"/share/bind_data_cao/site_data/32","designType":"newsindex","jsonUrl":"_userdata/index_000100/index.json"}