5
More Competitive Business
SMEs PRODUCTIVITY IMPROVEMENT

ECOSYSTEM FOR NEW STARTUPS

CORPORATE GOVERNANCE

CORPORATE TAX REDUCTION

FOREIGN BUSINESS PARTNERSHIPS
Unlocking economic opportunities means opening up all of our potential, from strength in local regions and the SME sector, to creating an ever more friendly business environment.

SMEs PRODUCTIVITY IMPROVEMENT
SMEs (Small and Medium Enterprises) provide 70% of all employment and more than 50% of all added value in Japan. As such, the potential to boost the economy via raising SME productivity with new technology is enormous.
Promote through subsidies

broader use of latest IT devices at SMEs

Reduce property tax as for SMEs

that make certain capital investments in ICT, robotics and cloud tools

Law took effect in May 2018

Support ownership and business transitions

for SMEs to enhance productivity

Further encourage SMEs' overseas expansion

through providing them with necessary information

Achievements
Pre-tax profit of SMEs in FY2018 is
18.4

trillion yen
Source: Ministry of Finance "Financial Statements Statistics of Corporations by Industry"; all industries, enterprises with capital of at least JPY 10 mn but less than JPY 100 mn, seasonally adjusted figures

ECOSYSTEM FOR NEW STARTUPS
Create a rewarding and agile environment for those who have passion for creating their own startups, encouraging grass-roots innovation.
Create as many as 20 unicorns by 2023 by using private-public

initiatives such as "J-Startup"

Bring outstanding startups to top international industry conferences

and make Japan's startup ecosystem even more attractive for those overseas

CORPORATE GOVERNANCE
Realize sustainable corporate growth through strong governance
Published new guidelines for stronger group corporate governance

to enhance good corporate values at group companies in June 2019

Drew up a Corporate Governance Code,

to promote transparent, fair, timely and decisive decision-making by listed companies

Revised in 2018

Formulated a Stewardship Code,

to promote constructive engagement and a purposeful dialogue between institutional investors and investee companies

Revised in 2020

Plan to update requirement for listed companies

to enhance corporate governance by appointing independent outside directors

Achievements
Corporate Governance Code

Applied to more than

2,000 companies

Percentage of listed companies* with two or more independent outside directors rose from 17% to 93

%

**
Source: Tokyo Stock Exchange
*First Section **From 2012 to 2019

Stewardship Code

Accepted by more than

280

institutional investors


Source: Financial Services Agency

CORPORATE TAX REDUCTION
Reform corporate tax to be growth-oriented
Reduce corporate tax rate below 30% mark in 2016

Source: Ministry of Finance

Substantial tax burden on corporate profits will be reduced to as low as 25%

for companies proactively engaging in wage increases and capital investment
Companies also proactively

engaging in advanced IT investment

will be eligible for further tax reductions, bringing

the substantial tax burden on corporate profits down to as low as 20%

Achievements
Annual corporate tax revenue increased

by close to

7

trillion yen compared to the previous administration, despite the reduced corporate tax rate

FOREIGN BUSINESS PARTNERSHIPS
For more information: https://www.jetro.go.jp/en/invest
Optimize administrative processes

Reduce administrative costs by 20%

by 2020 from 2017 levels in areas that are considered to have the heaviest burden,

e.g., for "business approvals and licenses" and "social insurance"

Consolidate scattered registration outlets

for different documents into one convenient outlet, e.g., Tokyo One-Stop Business Establishment Center
Host FDI (Foreign Direct Investment) seminars

to disseminate FDI information

Support the matching of foreign companies with domestic SMEs by utilizing the J-GoodTech website: https://jgoodtech.jp/pub/en/

Achievements
16,349


cases processed at the Tokyo One-Stop Business Establishment Center (as of April 2020)

Net amount of inward FDI

in 2018 marked a record high of

30.7 trillion yen

Source: Ministry of Finance "International Investment Position of Japan" as of May 2019
Invest in Japan, the Land of Rising Opportunities!
Japan is quickly transforming to become the most business-friendly nation in the world.
Japan welcomes your investment.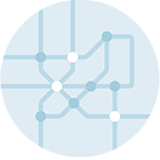 Evolving Innovation
Backed by regulatory reforms, R&D activities are accelerating innovation, and creating new business opportunities, e.g., in digital and medical/healthcare industries.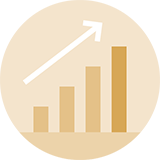 Market Potential
Thanks to Abenomics, the world's third largest economy keeps booming by increasing productivity and embracing highly skilled, diverse human resources.
Quality Business Environment
Sophisticated transportation network, expanding FTAs and growth-oriented policy measures are creating a favorable environment for global business.