4
Improve business environment to drive inward FDI
Building a truly business-friendly environment to achieve sustainable growth

Welcoming highly skilled foreign professionals from all around the world
Building a truly business-friendly environment to stimulate growth requires drastic reforms in Japan's corporate culture.
This "growth" is meaningless without its sustainability. Thus it is crucial to continue reforms in corporate governance to urge companies to improve dialogue with investors.
Building a truly business-friendly environment to achieve sustainable growth

CORPORATE GOVERNANCE
Strengthen investor confidence through transparency
Drew up a Corporate Governance Code1, to promote transparent, fair, timely and decisive decision-making by listed companies
Formulated a Stewardship Code2, to promote constructive engagement, or purposeful dialogue between institutional investors and investee companies

Eliminate overlaps in the disclosure rules

and

expedite provision of information

(relevant documents) to shareholders by electronic transfer

Achievements
Corporate Governance Code

Applied to more than

2,000 companies

Percentage of listed companies with two or more independent outside directors rose from 17% to88

%

Cross-shareholdings

in FY2016 have been

reduced to 15%

of all companies

Stewardship Code

Accepted by

more than 200 institutional investors
1

Source: "Japan's Corporate Governance Code" Tokyo Stock Exchange; June 1, 2015

2

Source: "Principles for Responsible Institutional Investors" The Council of Experts on the Stewardship Code; May 29, 2017

CORPORATE TAX REDUCTION
Reform corporate tax to be growth-oriented
Reduce corporate tax rate

below 30% mark in FY2016

Source: Ministry of Finance Japan

Reduce property tax for SMEs

from FY2016 to FY2018

Achievements
Annual

corporate tax revenue increased

by close to

7

trillion yen compared to the previous administration, despite the reduced corporate tax rate
Welcoming highly skilled foreign professionals from all around the world

LIFESTYLE SUPPORT
More information: https://www.japan.go.jp/livinginjapan
Conduct

"fast track visa screenings"

for highly skilled professionals within

10 days

Expedite

permanent residency after a year of arriving

, under certain conditions

"Japanese Green Card for Highly Skilled Foreign Professionals"

Increase bilingual healthcare professionals and educational support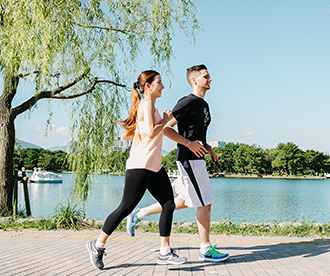 Achievements
Since May 2015, the number of

highly-skilled foreign professionals

increased by

97

%

(As of December 2016)
Source: Ministry of Justice:
"Number of Recognitions of Highly Skilled Professionals"

BUSINESS SUPPORT
More information: https://www.jetro.go.jp/en/invest/
Optimize administration process

Reduce administrative costs by 20%

by 2020 in areas that are considered to have the heaviest burdens such as

"business approval and licenses"

and

"social insurance"

Consolidate scattered registration outlets

for different documents into one convenient outlet (e.g.) Tokyo One-Stop Business Establishment Center

Host FDI seminars

to disseminate FDI information

Support the matching of foreign companies with domestic SMEs by utilizing the J-GoodTech website: https://jgoodtech.jp/pub/en/

Achievements
6,773


cases completed at the Tokyo One-Stop Business Establishment Center (as of Nov 2017)

Net amount of inward foreign direct investment (FDI)

in 2016 marked a record high of 27.8 trillion yen
Come and visit Japan!
SHORTER TRAVEL TIME TO DOWNTOWN TOKYO
In addition to Narita International Airport, Tokyo is served by the more centrally located Haneda International Airport. Providing domestic connections to 48 cities, Haneda is now offering a wider choice of international routes.

ACCOMMODATION FOR LESS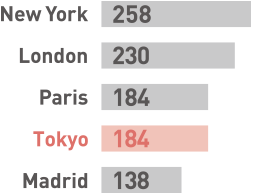 The Hotels.com Hotel Price Index (2015) shows that Tokyo has a lower average price point compared to other iconic cities
2015 USD Yearly average currency exchange rate:
1GBP = 0.681USD; 1EUR = 0.937USD;
1JPY = 125.911USD
SHOP FOR LESS
Japan is not that expensive anymore. In fact, The Economist's Big Mac Index—a broad indicator of price points—ranks Japan 34th out of 56 countries. (Jan 2017) (USD)

TOP DESTINATION FOR FINE DINING
According to The Michelin Guide (2017), Tokyo has the most Michelin-starred restaurants globally.