About Abenomics
Since coming to power in late 2012, Prime Minister Shinzo Abe and his government unveiled a comprehensive policy package to revive the Japanese economy from two decades of deflation, all while maintaining fiscal discipline. This program became known as Abenomics.
Abenomics keeps boosting Japan's economy
2012 vs Latest
Nominal GDP

64.7JPY tn (599 USD bn)

493 JPY tn
(4565 USD bn)>558 JPY tn
(5164 USD bn)

Record high

Number of Employed Persons (Female)

3.8mn (2.9mn)

62.8 mn
(26.6 mn)>66.6 mn
(29.5 mn)

Record high

Corporate Pre-Tax Profit

41.3JPY tn (382 USD bn)

39.7 JPY tn
(368 USD bn)>81.0 JPY tn
(750 USD bn)

Record high

Unemployment Rate

2.4%

4.3 % > 2.4 %

Private Non-Residential Investment

18.0JPY tn (167 USD bn)

71.9 JPY tn
(665 USD bn)>89.9 JPY tn
(832 USD bn)

Tax Revenue

20.1JPY tn (187 USD bn)

42.3 JPY tn
(392 USD bn)>62.5 JPY tn
(579 USD bn)

Record high
How Abenomics Works
The greatest structural issue facing the Japanese economy is the aging of society and shrinking of the population. However, we see this challenge as an opportunity.
Demographic change is a social challenge that will soon be shared by most developed countries. Japan is committed to achieving sustainable growth and becoming a pioneer in the establishment of a new social model. We call this Society 5.0, Japan's vision for the next step in human evolution.
Goal 2: Realizing Society 5.0
Solve social problems by utilizing Japan's vast volume of real data in tandem with cutting-edge industrial technologies.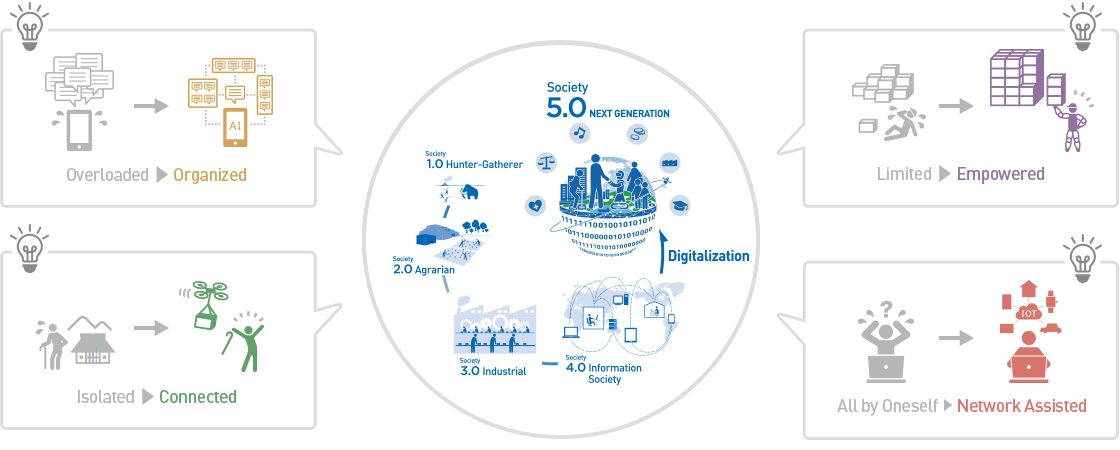 Japan's vision for the next stage of our evolution is Society 5.0, in which technology is harnessed to create a new social contract and economic model. With the help of robotics, AI, IoT, and big data we can improve not only business but also our daily life. As new technology eases administrative burden and knowledge selection, and enhances creativity, we can discover solutions to complex social issues, such as declining birth rates, aging populations, and the changing environment.